DING DING DING! What Does Folk Say About AthTek DigiBand ...
Recommended Software

AthTek DigiBand is an intelligent music composition tool for Windows. It provides a straight way to preview and compose music. You can automatically make your own original music in seconds. No music composition knowledge is required.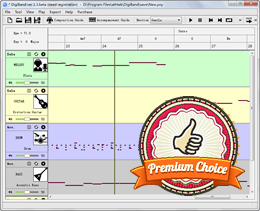 Auto composition: enables you to compose music by one click.
Auto accompaniment: improvise an accompaniment to melody or your humming.
Rich instruments supported: integrates almost all kinds of instruments.
Easy for use: provides a straight way to edit music tracks.
Download it now and you would be a talented musician in 30 seconds!