You are here: Skype Parental Control > How to use > How to install Skype Parental Control
How to install Skype Parental Control
Step.1 Download and unzip skypepc.zip to a secure place
When you have downloaded skypepc.zip, please unzip it to a secure place on the computer. Make sure of that the place won't be found, removed or modified easily. You should see the files as follow: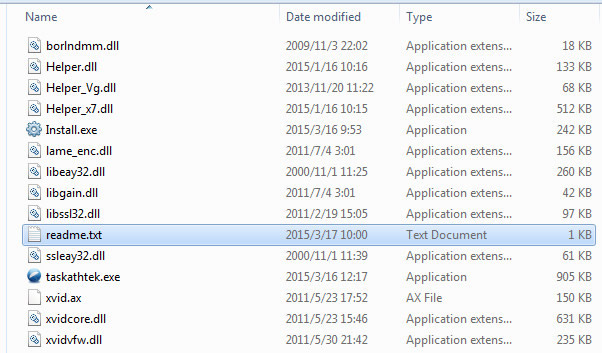 Step.2 Run Install.exe to install Skype Parental Control
Double click on Install.exe. A popup box will ask you to choose the hotkeys (Ctrl + Alt + Shift + X as default) and install SkypePC. The hotkeys is used for reviving SkypePC to desktop and you should remember your selection. Click to install SkypePC.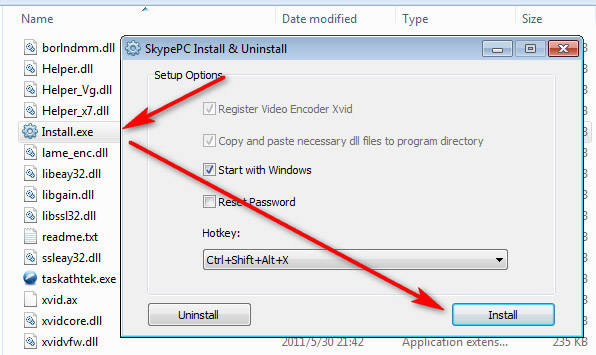 Step.3 Run taskathtek.exe to set the unlock password
Double click on taskathtek.exe. A popup box will ask you to set an unlock password to SkypePC. The unlock password is the second step verification to get rid of stealthy monitoring exposed. You will see a reminding box which reminds you to remember the hotkeys.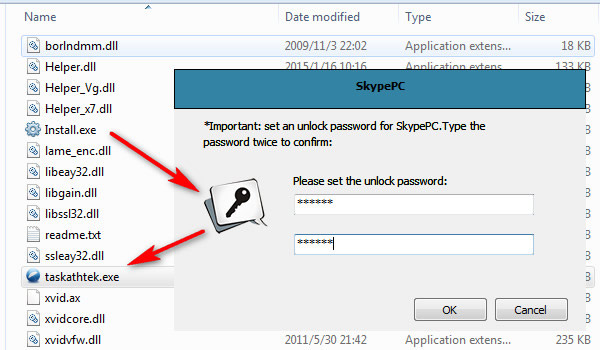 Step.4 2-Step Verification to revive SkypePC on desktop
After you have set the password, SkypePC will hide itself automatically and the installation is finished. If you want to revive SkypePC to desktop, please press the hotkeys (in step.2) and input the password (in step.3), then you can see SkypePC on desktop.
System Requirements
| | |
| --- | --- |
| OS | Microsoft® Windows 10/8 (8.1)/7/Vista/XP both 32- and 64-bit |
| Processor | 1GHz Intel/AMD processor or above |
| RAM | 1 GB RAM (2 GB or above recommended) |
| Free Hard Disk | 2 GB free space for saving multimedia files |
| Graphics Card | 16-bit graphics card or higher |
Editor's Review
I 'm so glad to recommend this parental control software to the parents who want to take good care of their children. SkypePC enables parents to monitor their children's Skype and get rid of any possible dangerous activity. You will have a new perspective to know your children and help them when necessary.
----------- Jenney Marko.