AthTek Skype Recorder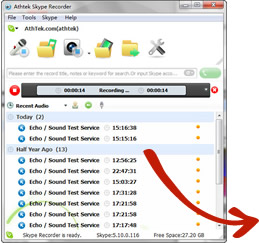 AthTek Skype Recorder is an advanced audio and video recorder for Skype users. It works with your Skype and takes high-quality recordings of Skype conversations. It is specifically used for Skype call recording and has been awarded as "The Best Skype Recorder" by thousands of Skype users. If you are looking for a quality Skype Recorder, we highly recommend to take a look at this one, and you will find it absolutely worth to have. The free trial version allows you to record Skype chats for 1-10 minutes randomly.
AthTek Skype Recorder works on Windows Windows 10/8 (8.1)/7/Vista/XP/2000 for both audio and video recording. It can record Skype chats on both side and save recorded audio files as MP3, OGG, WMA, FLAC formats, while video files as AVI format. AthTek Skype Recorder can be competent for private Skype calls recording, business call center, Skype interview and parental control.
Download free trial of AthTek Skype Recorder now to enjoy new experience in using Skype!
Recommended Video Call Recording Tool for Skype
General Program Infomation:
| | | | |
| --- | --- | --- | --- |
| Setup File Name: | Version: | Setup File Size: | Release Date: |
| skype_recorder.exe | 7.3.0.0 | 7.38 MB | December 3, 2017 |
| Windows Compatible: | Skype Version: | Advanced Function: | Languages: |
| Win 10/8(8.1)/7/Vista | Skype v7.17 or later | Hidden, FTP, etc. | En/De/It/Sp/Zh/Jp/Po |
Video: General introduction to AthTek Skype Recorder:
This is the most ever used Skype Recorder we highly recommend!

In itself, the Skype Recorder's ability to record audio and video across numerous formats already sets it apart from most of its competitors. To top that off however, it also has several other features that sweeten the pot...
------------------------------------- Vishven Chandran, Editor of Download3K
All-in-One Skype Recorder Software!
Autimatically record Skype Call on both sides as high quality audio or video.
AthTek Skype Recorder supports to record Skype calls in high-quality audio files (WAV, MP3, WMA, OGG, FLAC). It will automatically record whatever you can see and whatever you can hear in the Skype call. It is now working on tens of thousands computers all over the world.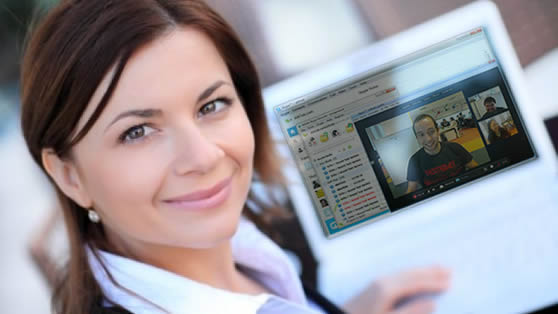 Supports Hidden Mode for Parental Control Purpose
Most young people have Skype accounts. As a parent, have you ever considered performing parental control over Skype? AthTek Skype Recorder supports to run in Hidden Mode and get all Skype calls recorded on the computer.

Advanced FTP Uploader for Power Users
If you have an FTP account, you can set to upload Skype call recordings safely and automatically. AthTek Skype Recorder also supports SFTP for business users.
System Requirements
| | |
| --- | --- |
| OS | Microsoft® Windows 10/8 (8.1)/7/Vista both 32- and 64-bit |
| Processor | 1GHz Intel/AMD processor or above |
| RAM | 1 GB RAM (2 GB or above recommended) |
| Free Hard Disk | 2 GB free space for saving multimedia files |
| Graphics Card | Super VGA (800×600) resolution, 16-bit graphics card or higher |

Users' Review
I am desperate for a recorder going with the Skype, for I am a secretary and always have take notes of important items of some calls. The Skype without the recorder function really causes me much trouble. Fortunately, I found this product. ----------- ynthia Hoffmann