Learn Programming
As a junior programmer, you may not be on top of programming, and you always meet sorts of logic errors you can't cope with. You need a straightforward tool to present source codes in a easy way to understand. Code to FlowChart can help you to understand complex program structures by visual diagrams. By using Code to FlowChart, you are free to get project overview, browsing and navigation.
Related Software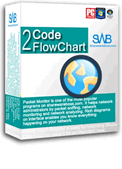 Code to FlowChart is an advanced source code to flowchart converter for software engineer and document writers. It can automatically generate flow chart/NS chart from source code, and helps users to understand complex program structures by visual diagrams. Code to FlowChart reverse engineers your source code into high-quality flow charts or UML Activity Diagrams.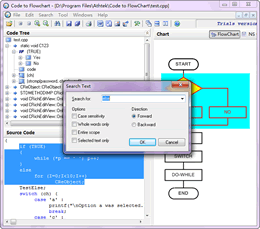 Source Code to FlowChart/NS Chart: you can see the logic structure.
Support Many Languages: C/C++/VC/Pascal/Delphi.
Exportable FlowCharts: support export to Visio/Word/SVG/BMP
Auto Formating: enhance the readability of complex source code.
Order Now to Get 100% Money Back Guarantee in 30 days!
Solution
Step 1Find the open source project you want to learn.

Before starting to learn programming, you need to find some piece of project from open source project website. For example your want to learn how to write a filter, just find the piece of source code of a filter.

Step 2 Generate the fowchart by original source code.

Hit "File" and choose "import" to import the project, you will get the flowchart as soon as you finished it. That is all the logic structure of the imported project. Learn how to display the flowchart.

Step 3 Check every box to learn how it working.

Click on any of the box, you will see the corresponding source code which are highlighted in source code area. Also you can double click on the box to shrink or expand the flowchart. Get this over and over again, soon you will be able to write this kind of code all by yourself. Learn how to find the corresponding source code on flowchart.