Speed Up Your Operating System
An operating system is a collection of files that perform different functions. It is possible, over time, that one or more of these system files has changed or become corrupted. If this happens, the speed of your system may decrease. This issue is caused by the rough-and-tumble registry. Especially for the Windows 64-bit systems, too many keys will be used in 64-bit systems. As an experienced Windows user, I recommend that you need to clean and compact the registry every week. After cleaning the registry, your system will get better runing speed than ever!
Related Software

RegistryCleaner is one of the most powerful registry tool in the world. It comes with a neatly designed interface, and help users to scan, clean, compact, backup and restore the registry. RegistryCleaner supports both 32-bit and 64-bit systems, and will observably boost your system speed. It is very simple to use, even a child can handle it by a few clicks, never mind the knowledge of registry.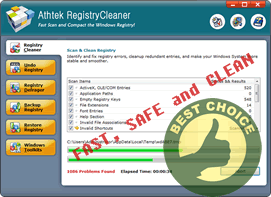 Speed up OS: RegistryCleaner boosts the runing speed of operating system.
Fast scan and compact registry: double engines make it faster than others.
Registry backup & Restore: fully backup and restore the registry.
Protect your computer: keep away from virus, Trojans and keylogger programs.
Order Now to Get 100% Money Back Guarantee in 60 days!
Solution
Step 1Scan and repair errors of the registry.

If you want to speed up your operating system, you must know how many errors are existing in your system. Simply scan all the items of the registry, and you will find how many errors there are! Then you'd better repair all the errors in registry. Of cause you are able to undo changes of the registry if you regret to do that. how to scan and repair the registry.

Step 2 Compact the registry.

After you have repaired those errors of registry, there must be many gas created in the registry. Actually everytime using windows wll create many gas in the registry. If you don't remove those gas, they will take much space and pull down your system spped. It is recommended to compact the registry every week. How to compact the registry.

Step 3 Reboot your computer and experience the speed.

Once you have already repaired and compacted the registry of operating system, your operating system speed will be enhanced a lot. Please reboot the computer to try the new experience of your operating system!