Audio Recording for Remote Meeting
People are usually using Skype for transnational meetings on line, but how to record the meeting is still a trouble. Now we can use AthTek Skype Recorder to get rid of this issue. When we are using Skype for a transnatianal meeting, just with several clicks the program will help us to record the whole meeting. We can export the recorded meeting as audio files, so as to replay it in future in our need.
Related Software

AthTek Skype Recorder is an excellent application which works with your Skype. It automatically connects to Skype and keeps a record of every call as you want. You can also replay the recorded audio file to review the message in the call.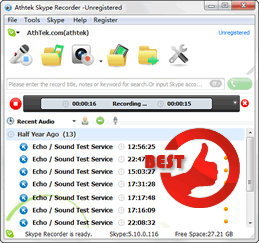 Auto Record Skype Calls: start recording just in time.
Perfect Audio Quality: the best one you can get in the world.
Record Both Side: not only your voice can be recorded.
Exportable Audio File: save skype call as an audio file in format Mp3 or WAV.
Order Now to Get 100% Money Back Guarantee in 30 days!
Solution
Step 1Configure the recording part of Skype Recorder.

Before recording the meeting, we need to configure recording functions, both side or only local side? If you choose both side recording, then you will get the audio will both of you and your partner. We strongly recommend to use both side. Learn how to configure it.

Step 2 Start recording for the meeting.

You can manually start the recording, or we recommend to use auto start option, so you can start recording just in time when the meeting begins. You can stop recording whenever you want, and restart it whenever you want. Learn how to auto start recording when Skype gets connected.

Step 3Export the recorded audio files.

When the meeting is over, you can freely export the meeting record as an audio file, so you can revive the meeting again for some details. By the way, the quality of the exported audio file is the best one I've ever heart! Learn how to export the recording.