How to improvise an accompaniment to solo singing
Do you have such experiences: a great melody come across your head or dream, you remember it but finally lose it because you are not able to record it as musical file rather than to make an accompaniment to it. Believe me, you maybe have lost the opportunity to be a talented songwriter! Learn composition is not so easy for most of us. But what I want to let you know, you can improvise an accompaniment to your solo singing easily with music software. The only thing you need to do is to sing your melody, then the music software will improvise an accompaniment to your solo singing and you already be a real songwriter now! Obviously, not all the music software can help in accompaniment or composition. The following music software is what I highly recommend.
Recommended Software

AthTek DigiBand is the intelligent music software which can automatically improvise an accompaniment to your solo singing. It provides a straight way to record and recognize what you sing as musical file. No music composition knowledge is required.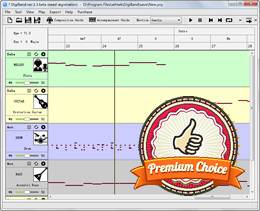 Auto accompaniment: improvises an accompaniment to your solo singing.
Auto composition: enables you to compose music by one click.
Rich instruments supported: integrates almost all kinds of instruments.
Easy for use: provides a straight way to edit music tracks.
Download it now and you would be a talented musician in 30 seconds!
Solution
Step 1Access Accompaniment Guide.

When you start AthTek DigiBand, you will be asked to choose Composition Guide or Accompaniment Guide. In this solution, you need to choose Accompaniment Guide. You will see the panel which asks you to import an existing audio file or record your solo singing. Hit Record button and set the BPM (beat per minute), then you can sing the melody which you remember and improvise an accompaniment to it.

Step 2 Edit the accompaniment to your solo.

You will see many audio tracks in AthTek DigiBand and all the tracks are editable. Click the icon of each audio track, you would be able to switch instruments type. You can also add or remove audio tracks to the accompaniment. After you have everything done, you can play your music to preview the accompaniment. Also you can use the sound source in MIDI or SoundFont2 flexibly.

Step 3 Export the accompaniment as a musical file.

If you are satisfied with the accompaniment, you can now export it as a musical file and mark it as your "original music". AthTek DigiBand supports to export accompaniment as playable midi or wave file formats. You can also export the project as vsqx, ust and nn formats for future edit. Now you have already wrote a song with melody which came across to you head. Who won't think of you a songwriter?