AthTek Data Recovery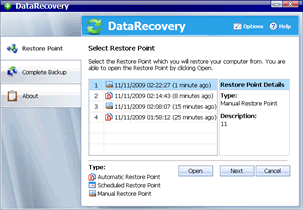 AthTek Data Recovery is professional Windows Data Recovery software to recover data and recover operating system. By using the Ctrl+R keys, AthTek Data Recovery can successfully do OS recovery from FAT or NTFS partitions.
AthTek Data Recovery is also fast, useful, practical and powerful backup software. It allows users to do data backup and system backup with one click. Besides, restore points are created in various ways for documents recovery and system recovery. What's more practical, the files recovery can be achieved even if your files are deleted in the recycle bin.
Note: For now this program only can be installed on assembly machines with no hidden partitions.
Be Used For
Operating System Quick Backup and Restore:
AthTek DataRecovery is a reliable tool for Operating System backup and recovery. Have you ever been troubled that somehow your operating system went wrong? Have you ever been trouble that your computer powered off for some unknown reasons and you could never lead it to normal path? Have you ever troubled that when you had been attacked by virus the whole system crashed? If you have been confronted with these problems at intervals, all you need is to constantly back up your system and restore it. AthTek DataRecovery will help you do them efficiently.
Hard Disk Data Quick Backup and Recovery:
AthTek DataRecovery is a reliable and practical tool for Hard Disk Data backup and Recovery. You have been bothered that you sometime deleted some useful data on hard disk careless and then regret a lot, haven't you? You have lost some useful document before you can save them when your computer was turned off for some unknown reasons, haven't you? AthTek DataRecovery will help you solve all the problems. AthTek DataRecovery can help you quickly recover the carelessly deleted files, and even the files which have been removed from the Recycle Bin.
Restore Point Management:
AthTek DataRecovery is a handy helper for you to manage restore points. You have the experience that your operating system crashes and you must restore it to let everything go smoothly. However, you really have no idea that if you should restore your system to the very beginning, and you are afraid that you may lose your precious document. AthTek DataRecovery can help you create restore points and manage them efficiently. Those Restore Points can be opened as duplicate disk partitions in "My Computer", where you can find the deleted files.
Key Features
Recover Windows Operating System Quickly

AthTek Data Recovery compresses all the data of system partition and saves them to a hidden partition on the hard disk. Therefore even your system crashed because of virus, you can recover it by one click.

Recover Deleted File Even It has Been Removed From The Recycle Bin

With AthTek Data Recovery, even the file has been removed from the Recycle Bin can be recovered. Restore Points are created in several ways, and you can find deleted files in duplicate disk partitions in "My Computer".

Recover Partition From Both FAT And NTFS Partition

AthTek Data Recovery can restore Windows Operating System and recover deleted files from NTFS and FAT partitions. Whatever you have lost your file in which kind of partitions, you can easily find them back.

Quickly Recover System By Ctrl+R Keys Before Access To Windows

AthTek Data Recovery supports using hot keys to facilitate recovery. By using Ctrl+R keys, AthTek Data Recovery can effortlessly restore your Windows Operating System from FAT or NTFS partitions even before you access to Windows.

Different Ways To Create Restore Point (Manual, Automatic, Schedule)

AthTek Data Recovery provides different ways to create restore points. You can create restore points in manual, automatic, or schedule way. More than one way setting can cater for different kinds of needs.

Saving Alternative Restore Points

Users are able to create many Restore Points to save changes. By creating restore points in manual ways, you can successfully select restore points which are worth saving.

Preview The Restore Points

The Restore Points can be opened as duplicate disk partitions in "My Computer". You can preview the restore points and find physically deleted files in the new opened "My Computer".

Live Update

The updating process is realized only by one click. We are devoted to perfect it and we will provide updating services to update it once there is a new version released. You can find some details in the tray bar.

Password For Protection

The password setting of AthTek Data Recovery is used to protect AthTek Data Recovery and users' data. Without the password, no one is able to completely delete any data or Restore Point.

Neatly Designed Easy to Use

Neatly designed, straightforward interface makes it easy to follow. For better sustentions of a friendly operating environment, its neatly designed interface and condensed orders is thoughtfully designed.

Clean Interface, Less CPU and Space Occupied

AthTek Data Recovery is a very friendly application program. It has a clean interface, which can help users keep their data safe; It occupies less CPU and space, which provide a better environment for running computer.
System Requirements
| | |
| --- | --- |
| OS | Microsoft® Windows 2000, XP, Windows Vista, Windows 7 and 8 |
| Processor | 1GHz Intel/AMD processor or above |
| RAM | 256MB RAM (512MB or above recommended) |
| Free Hard Disk | 20GB space for installation |
| Graphics Card | Super VGA (800×600) resolution, 16-bit graphics card or higher |

Users' Review
I am not very good at computer and always keeping messing things up. Since I use this product, I don't have to worry that documents may be deleted carelessly or my system crashes suddenly. I can restore it by just one click! What's more fabulous, I can even find the documents removed from the dustbin. How sweet it is! ----------------------------- Carol Pasic, free writer from Kentucky
Tags
Data recovery, system recovery, data backup, system backup, recovery, recover deleted files, recovery software, backup software, recover operating system, documents recovery, restore operating system, recover data, files recovery
Recommended Software
AthTek Registry Cleaner
Fast scan and clean the full Windows registry within minutes. It can also optimize registry to boost your PC performance.
Reinstall DirectX EZ
Repair DirectX effortlessly to guarantee your PC performance. With this DirectX toolkit, you can enjoy your game fun without any fatal DirectX errors!