Backup Business Data
Imagine this scene: You come to your office in the morning and try to start your computer, but it gets something and could not start. You try again and again, and finally call an IT person in to offer some help. He or she taps a couple of keys, turns to you and asks, "Do you have a data backup?" With AthTek Data Recovery, you don't need an IT person any more. If you are facing that issue again, just run the recovery program, and it will get completely system recovery and data recovery all by yourself.
Related Software

AthTek Data Recovery is a reliable and practical tool for operating system restoration and deleted files recovery. It can help you to recover your operating system and data even when system crashes. It's easy to use with neatly designed interface.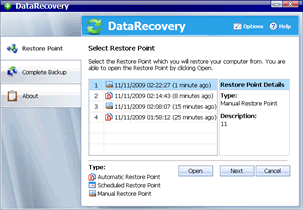 System Backup And Recovery: all by one click.
Data Recovery: fast and stably recover data you want.
Deleted File Recovery: even they have been removed from recycle bin.
Restore Point History: reach the file even it has changed for several times.
Order Now to Get 100% Money Back Guarantee in 30 days!
Solution
Step 1Backup your important business data.

Create a new restore point when the business data is ready. Before doing this, you must make sure of that the partition where you saved this data was under surveillance by AthTek Data Recovery. You can also set a restore point automatically saving schedule. Every restore point takes a little space, please don't worry about that. Learn how to create a restore point.

Step 2 Find your backed up data in restore point.

Select one restore point in the list, make sure of that it was the one you want to review your business data according to the saving time. Click "Open" then you will see some duplicated partitions named begin with "RP_" in the opended "My Computer". Go to the new partitions to find the business data you want to recover. Learn how to find my backed up business data.

Step 3 Copy the business data and close the restore point.

Copy the business data to a new path for use, then close the restore point. This is all what you need to do for your business data backup and recovery, even the data was removed from the recycle bin!