Compose Music for a Party
Everyone likes parties. It will be very cool to play your original music in the party. But music composition is not a simple work as turn over your hands. Even making a nice section of melody is not an easy work to do. We need to learn a lot of notes, instruments and music structures before we can compose. An easy way to compose music for a party is to use a music composition tool. There are some great music software you can find through the internet, but most of them are still not so easy for use. You don't need to worry about that now. In the following section I will introduce a solution to improvise melodies or even the complete music by one click. This would be a much easier way to music composition for a party.
Recommended Software

AthTek DigiBand is an intelligent music composition tool for Windows. It provides a straight way to preview and compose music. You can automatically make your own original music in seconds. No music composition knowledge is required.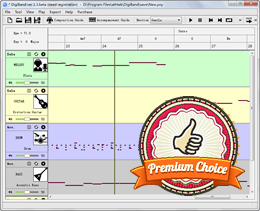 Auto composition: enables you to compose music by one click.
Auto accompaniment: improvise an accompaniment to melody or your humming.
Rich instruments supported: integrates almost all kinds of instruments.
Easy for use: provides a straight way to edit music tracks.
Download it now and you would be a talented musician in 30 seconds!
Solution
Step 1Access Composition Guide.

When you start AthTek DigiBand, you will be asked to choose Composition Guide or Accompaniment Guide. In this solution, you need to choose Composition Guide. You will see the music composition panel with several selections. You can select the emotion as Satisfaction, refresh the instruments and select music structure. Then press Auto composition button to generate the music.

Step 2 Edit your party music.

You will see many audio tracks in AthTek DigiBand and all the tracks are editable. Click the icon of each audio track, you would be able to switch instruments type. You can also add or remove audio tracks to your music. After you have everything done, you can play your music to preview the sound effects. Also you can use the sound source from MIDI or SoundFont2 flexibly.

Step 3 Export the music as playable audio file.

If you are satisfied with the music composition, you can now export it as an audio file and play it in the party. AthTek DigiBand supports to export music compositions as playable midi or wave file formats. You can also export the project as vsqx, ust and nn formats for future edit. Now you can play the music you have just composed in the party. It is very cool, isn't it?