How to change my voice in a Skype call
If you fancy having a bit of fun next time you use Skype then why not try out changing your voice in a Skype call? You'll be able to do all sorts of cool things, from prank-calling your pals as Darth Vader to faking a sore throat in order to get a day off work. You may also want to optimize your voice for a Skype interview which will absolutely enhance your voice and left a better impression to the interviewer. Sometimes maybe you want to sing a song to your friends with Tom Cat's voice to make fun of them on Skype. Basicly, changing your voice is not so difficult if you have recorded it aforehand. But why not try out making your new voice in a Skype call synchronously? In the following passage I will introduct a smart Skype Voice Changer to you, and I will let you know how to change your voice and sync it in a Skype call within 3 steps.
Required Software - AthTek Skype Voice Changer

Skype Voice Changer is a smart application which can change your voice to male or female flexibly, and sync your new voice to a Skype call. It doesn't like other voice changers which is expensive, asynchronous, and will force your computer to use their audio drivers. AthTek Skype Voice Changer is able to transmit your voice to Skype at the same time you speak out and will never change your audio driver.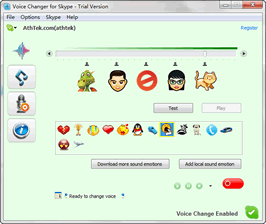 Change Your Voice: to be a man or woman flexibly.
Sync with Skype Call: the same time when you speak out.
High quality audio: it has the same audio recording quality with Skype Recorder.
Record Skype Calls: saved in high-quality audio format.
Skype Voice Changer uses the same audio software as AthTek Skype Recorder (which has been awarded as 'Best Recording Quality'). Order Now to Get 100% Money Back Guarantee in 30 Days!
Solution
Step 1Install Skype Voice Changer and Allow Access on Skype.

The first step of changing your voice in a Skype call is to install Skype Voice Changer on your computer. If this is the first time you run Skype Voice Changer on the computer, you need to manually allow access on Skype. If you don't allow access on Skype, Skype Voice Changer won't be able to change your voice in any Skype call. View how to allow access on Skype.

Step 2 Test your voice before making a Skype call.

After you have already installed Skype Voice Changer to the computer, you can test the voice effect on it. Open Skype Voice Change, drag the pointer left or right, then click on "Test" button. Speak to the microphone to record a temporary speaking, then stop and play it. Now you can listen to the voice test of what you have just speak with a changed voice.

Step 3Change your voice in a Skype call.

Once you have got your favorite voice effect in Skype Voice Changer, you can start a Skype call to put it into effect. Please make sure of that the voice effect has been enabled and you have allowed Skype Voice Changer's access on Skype. Try it yourself now to find more funny pranks with Skype Voice Changer!