Why To Monitor Remote Online Calls
Skype is widely used in our daily lives. We use it to make online calls with our business partners, lovers, family and friends. In some case, we need to listen to a remote online call to know exactly what they were talking about. Suppose that, you are using Skype to contact your business partner. Some day you are not in your office when the Skype call gets through. Your employee answered for it but you don't know what he or she said to your business partner. Did he or she delivered a wrong message to your business partner? If it is true, that will bring losses to your business. What you need is a tool which can monitor remote online calls for you. It will automatically record the Skype conversation, and enables you to listen to the conversation remotely. Following is what we want to let you know, how to monitor remote online calls within 3 steps.
Related Software

AthTek Skype Recorder enables Skype users to record high-quality Skype calls automatically. It runs along with the Skype program, records both side of a Skype call. It detects the connection with Skype, and automatically record the Skype call with no manual operation is required.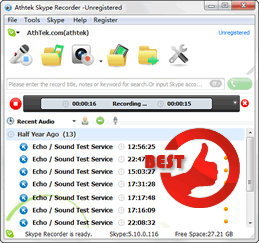 Monitor Remote Skype Calls: automatically upload remote Skype conversation.
Auto Record Skype Calls: start recording just in time.
Perfect Audio Quality: the best one you can get in the world.
Record Both Side: not only your voice can be recorded.
Order Now to Get 30 days 100% Money Back Guarantee!
Solution
Step 1Get a web server to store the Skype conversation.

You need to place a web server which is used for storing the record of those Skype cpnversations. We recommend that the minimum free spce is at least 1oo MB. It will not be too expensive for this kind of web server. Then you need to create an FTP account for uploading the records automatically. AthTek Skype Recorder will ask you to input your FTP information.

Step 2 Configure your Skype Recorder.

Open your Skype Recorder, then go to the Option board. Press the "FTP SERVER" tab to input the above FTP account information. You need to input the host name, port, username and password. These are all for you to upload the Skype recordings automatically, and will NOT be shared with others. See hot to configure the FTP SERVER.

Step 3Llisten to the remote Skype conversation.

After the Step.1 and Step.2, you can try to listen to the remote Skype call. Simply let your family make a Skype call on the computer which you have installed AthTek Skype Recorder to, then go to the web server to see the uploaded Skype recording. Now you are able to monitor remote online calls even you are not using that Skype!