Home Video Surveillance System
Sure, we all use our webcams for chatting to friends and family, but have you ever considered that it could be used for other, more serious pursuits? Well, there are various alternatives for your webcam, and surveillance is one. Want to make sure no one's in your room when you are not there? Want to check up on things when you're not at home? Now let me tell you how to build up home video surveillance system with Webcam Surveillance Monitor.
Related Software

Webcam Surveillance Monitor streams video from the webcam directly to your video surveillance system, alarms you when there are abrupt motion events. Webcam Surveillance Monitor supports both home surveillance and outdoor video surveillance.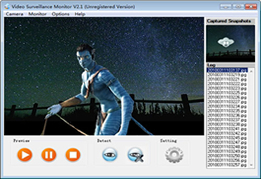 Home and Garden Security: Home video survellance system.
Remote Video Surveillance: Monitor home in distance.
Sound Alarm: Warn you if there is something in front of the camera.
Timestamped Snapshots: Know exactly when it happens.
Order Now to Get 100% Money Back Guarantee in 30 days!
Solution
Step 1Where will you place your cameras.

Before get your home under video surveillance, you must know where you should place your camera and how many cameras you need. Usually the camera would be placed in front of your door, living room, park area, windows, garden or somewhere else.

Step 2 Place cameras and connect them to your computer.

Place cameras there. If some of them are out of your house, please make sure that they are waterproof in wet weather. You need long wire to connect those cameras to your computer. Test them before video surveillance.

Step 3 Run Webcam Video Surivellance on your computer.

After testing those cameras is available, you can run Webcam Surveillance Monitor to activate the home video surveillance system. "Local Monitor" can be used together with wire need cameras, and "As a Client" can be used together with the wireless cameras. All the events in front of your camers will be recorded and the system will warn you that by a sound alarm, and the timestamped snapshots is available.