Buy Webcam Surveillance Monitor Pro For Home Video Surveillance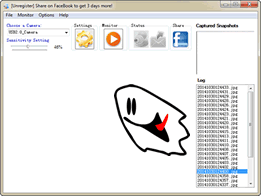 Webcam Surveillance Monitor Pro makes ordinary cameras into super surveillance cameras, and builds up burglar alarm systems for your home security surveillance. The only thing you need to do is to connect ordinary webcams to this program, then you would be able to monitor every corner around your house. It can also capture images If there were uninvited guys in your house. More than that, Webcam Surveillance Monitor can trigger alerts if you want to warn those uninvited guys away from your house.
Webcam Surveillance Monitor Pro provides a software solution for you home security surveillance. It works just as an traditional burglar alarm system, but costs only a few money for lifetime use. If you are looking for a cheap solution for video surveillance, Webcam Surveillance Monitor is exactly what you need!
Purchase Guide
Payment Method
Support Credit Card (Master/Visa/Discover), PayPal (USD Only), Bank/Wire Transfer with invoice.
Please Note: we priced this product in US Dollar. No matter what currency you are using, the charge will be automatically recalculated to US Dollar. In some case you will be charged more with non-USD currency. We kindly ask you to adjust the currency setting to US Dollar and you won't suffer a loss from foreign exchange.
Once you click the purchase buttion, you will see the form as below: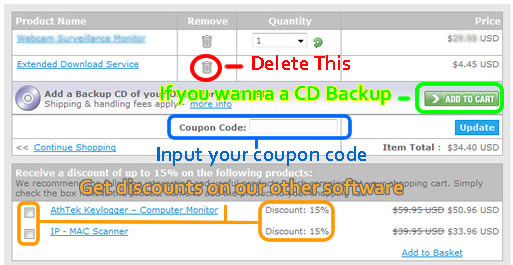 As you can see from the snapshot, we advice that:
a. you may delete the "Extended Download Service", because you can download the latest version from our website whenever you want, and this will cost you additional $4.45. You don't have to pay for that.
b. If you wanna a CD backup, click the "ADD TO CART" button, then the CD will be emailed to you.
c. If you have a discount coupon, please enter it to the box then click "Update". Don't have a discount coupon? Browser here to get one!
d. Want to add another software to your order? Simply check the boxes you want to add, you will get them with discount!
System Requirements
| | |
| --- | --- |
| OS | Microsoft® Windows 2000, XP, Windows Vista, Windows 7 and 8 |
| Processor | 500Hz Intel/AMD processor or above |
| RAM | 256MB RAM (512MB or above recommended) |
| Free Hard Disk | 4GB space for installation |
| Graphics Card | Super VGA (800×600) resolution, 16-bit graphics card or higher |

Users' Review
Well, this is the best video surveillance software i've ever used. as I have been disappointed on several occasions with other, similar software, that once paid for, did not work as well as advertized after several days. Finally I chose this one and it is really surprise!


-- Bush from New York
Tags
webcam surveillance, video surveillance, surveillance, surveillance monitor, motion detector, security surveillance camera, home surveillance, surveillance software, security motion detection, webcam software, CCTV software, camera guard, home security, security camera, camera surveillance, video monitor