MIDI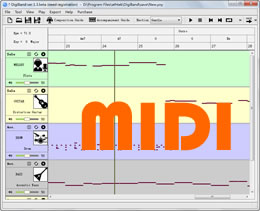 MIDI (short for Musical Instrument Digital Interface) is a technical standard that describes a protocol, digital interface and connectors and allows a wide variety of electronic musical instruments, computers and other related devices to connect and communicate with one another. A single MIDI link can carry up to sixteen channels of information, each of which can be routed to a separate device. MIDI's appeal was originally limited to those who wanted to use electronic instruments in the production of popular music. The standard allowed different instruments to speak with each other and with computers, and this spurred a rapid expansion of the sales and production of electronic instruments and music software. -- by wikipedia
MIDI is widely used in AthTek Digiband. You can import a MIDI file (*.mid) to AthTek DigiBand for making an accompaniment. When editing audio tracks of the music, you can choose MIDI as the sound source. You can also export your music as MIDI file format. In the following instructions, you will read where MIDI has been used in using AthTek DigiBand.
Import a MIDI file to improvise an accompaniment

Whenever you start AthTek DigiBand, you will see 6 buttons in Startup Guide. One of the buttons is named as "Accompany your midi file".
Click on this button, you can select to import a MIDI file to make an accompaniment in AthTek DigiBand.
The imported MIDI file can be fully parsed into by AthTek DigiBand. You may select how many audio tracks you want to have when editing the MIDI file. Also you can easily add or modify any musical element in the imported MIDI file if you wish.
MIDI OUT in music preview

On top right of AthTek DigiBand, you can find a drop-down box with 2 options. You can choose MIDI out here and the music will be reproduced to MIDI style.
Export music as MIDI files

When you are satisfied with your music composition, you can now export music as a MIDI file to your computer.
You can export music as MIDI file by clicking [Export] > [Midi file]. You can also click on the "mid" button on top right corner to export a MIDI file. The exported MIDI file can be imported back for further editing.