Testimonials of AthTek Skype Recorder
Honor Knight ID-License of AthTek Skype Recorder

As a podcaster, I rely on great sound to make my show stand out. Since one co-host lives clear across the country, and the other is from Canada, I rely on Skype to bring us together each week. Athtek Skype Recorder provides the best call recording of any other program out there, hands down. The interface is easy to use, allowing you to customize your recording in just about any way you see fit. However, it's the suburb sound quality where the program really shines. No drop outs, no tinny voices. Just clean, rich sounding voices from my co-hosts and guests. Athtek also provides excellent customer service in a time when so few other companies couldn't be bothered once you've paid for their product. I had an issue with my purchase and the folks at Athtek bent over backwards to insure I would be satisfied. I am satisfied, and I look forward to many more podcasts utilizing the Athtek Skype Recorder. If you have a podcast, you owe it to yourself to have great sound. Athtek will get you there, capturing the softest whisper to the loudest roar with crystal clear sound quality that stands unmatched by anyone else.

GFQnetwork.com Pick of the Week

AthTek Skype Recorder is desktop software designed to help user record Skype conversation with high-quality audio and video files. It is an all-in-one Skype recording tool for users to take audio notes, enhance the customer service of call center, launch a Skype interview and perform parental control. It provides powerful tools to record not only an audio call, but also video. But what really sets Skype Recorder apart from similar programs is it's ability to record both your audio, and your partner's audio on separate channels, or just one side of the conversation. It can also be set up to automatically record any time you make or receive a call.

AthTek Skype Recorder

AthTek Skype Recorder works on Windows Windows 8 (8.1)/7/Vista/XP/2000 for both audio and video recording. It can record Skype chats on both side and save recorded audio files as MP3, OGG, WMA, FLAC formats, while video files as AVI format. AthTek Skype Recorder can be competent for private Skype calls recording, business call center, Skype interview and parental control.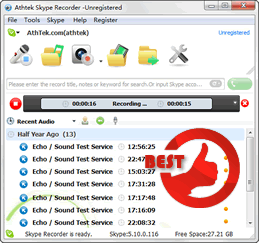 Record both audio and video: all-in-one Skype call recorder.
Answer Machine: auto answers Skype calls from your contacts' list.
Hidden Mode: enables to perform parental control over Skype.
SFTP Uploader: auto uploads recordings safely for business purpose.
It is the most ever used Skype call reocrding software in the world. It also has been award as "The Best Skype Recorder Software" by Skype users. Order Now you can get 30 days Money Back Guarantee! Please read the instructions to license types carefully before clicking on the BUY NOW button. No additional fee will be charged and you would be able to use this software for lifetime without any limitation!