Dynamic Desktop Publishing
Sure, we all use our webcams for chatting to friends and family, but have you ever considered that it could be used for other, more serious pursuits? Well, there are various alternatives for your webcam, and surveillance is one. Want to make sure no one's in your room when you are not there? Want to check up on things when you're not at home? Now let me tell you how to build up home video surveillance system with Webcam Surveillance Monitor.
Related Software

Print Layout Designer is professional in designing and dynamic publishing label, business card, bar code, check, ticket, coupon, flowchart, interface, cover, schematic diagram, customer sticker, CD label, Paper package and customized invitation.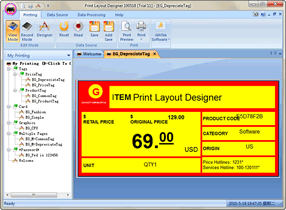 Dynamic Desktop Publishing: publish different printings at one time.
Free Templates: many kinds of templates enable quick layout designing.
Support Database: database is used for dynamic printting.
Office 2007 Style: if you can handle Office 2007, you can easily use it.
Order Now to Get 100% Money Back Guarantee in 30 days!
Solution
Step 1Design your printing work.

Use the powerful designer to design your printing works. If it was trade mark or coupon, you can use the preset templates for a quick designing. You can easily handle this program just like you are using MS Office. Learn how to use those free templates.

Step 2 Attach at least one database to your designs.

It is necessary to attach your designs to a database, that will enable you to do dynamic printing out. Just hit "Insert" and choose "Data Resource". Learn how to attach to a database.

Step 3 Select a printer and click "Print".

Check your printing designs and the attached database, if everything is OK, you can press the "Print" button now and get your dynamic output printtings! It wonderful to get different printings all by one click!