Perform Parental Control on Computer
Parental control is a serious and complex project today, because the children are more likely to interact with the world than we have ever before. Like it or not, most of the children start surfing the Internet before 5 years old. As we all know that there would be a lot of adult content or even other dangerous things throughout the internet. Children maybe don't know what they should read and what they shouldn't. That's why we need to performance parental control on our children. Generally it won't be too difficult to perform parental control if you can use your kids' computer. In the following passages, you will see a comprehensive parental control tool for Windows and how to use it on the computer. Also you can view how to perform parental controls on Skype with AthTek Skype Recorder.
Parental Control Software

AthTek can help in parental control. With AthTek parental control software, parents can easily monitor all the activities on their kid's computer. It will record what your kids have done on the computer and send logs to you via emails. With this software, you can effortlessly know the truth about your kids and improve the education before they got into trouble.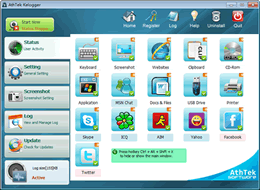 VoIP chat monitoring: Skype, ICQ, MSN, Google Chat, etc.
Online chat monitoring: FaceBook, Twitter, Pinterest, Google+, etc.
Website monitoring: What they have viewed on browser side.
Document monitoring: What they have typed in documents and emails.
The latest version (2013, compatible with Windows 8) will be provided after purchasing. This software is somehow overkilled for PC monitoring, please do NOT use it in any illegal activity.
How to perform a parental control
Step 1Install parental control software on the computer.

After you have got the setup file of parental control software, you need to install it to the computer which you want to perform a parental control. There maybe warning of internet connection pop up during the installation process. Press Allow if you want to receive logs from the software. After installation, you would be asked to set the password protection to your parental control software.

Step 2 Configure the parental control software.

Once the software has been successfully installed, you can configure it for your particular parental control purpose. You can choose what to monitor in the main panel and the screen capturing interval in Screenshot settings. You can also set keywords to this software and when typing any of the keywords, it will capture snapshots. If you have set an email account to receive the logs, the local copies will be deleted.

Step 3 Check the logs and improve the education.

Logs including all the activities of your kids on the computer will be sent to you via emails. Then you would be able to know what they have done on the computer, what programs they used, what websites they visited and what guys they have chatted with. Necessary changes should take effects in your kids' education, and that is the ultimate purpose for parental control.