Prank Call on Skype to Get a Good Laugh
If you're bored and want to annoy a stranger, a friend, or even a business owner, than making a prank call may be just the activity you're looking for. While you sit there at your computer trying to hold back laughter, you can listen to them try and figure out what the hell is going on. Most of the pranks require of telling a lie. I'd like to introduce a new way prank which you even don't need to make a lie. You can just speak to your friends over Skype as usual, and your friend will fall into the trap without awareness! If you want to know how to make a successful prank call on Skype, you should
bookmark
this page and do as follow:
Required Software - Skype Voice Changer

Skype Voice Changer is an interesting application which can change your voice to male or female flexibly in Skype call. It is quite easy-to-use and you will see a clean interface when you open it. It can also send free sound emotions to your friends and get the funny conversation recorded in an audio file on your computer.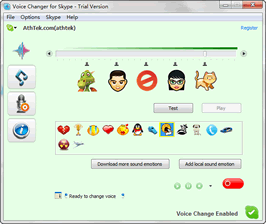 Change voice pitch: to have a man or woman voice flexibly.
Send sound emotion: funny sound emotions to improve the prank.
real-time voice changing: speak and change your voice at the same time.
Record Skype Call: save the funny conversation in high-quality audio file.
Buy it now then you will be able to enjoy the full version instantly!
Important Announcement: please read if you always use the latest version of Skype.
Solution
Step 1Register a new Skype account and add your friend to contact list.

You need to create a new Skype account. If you use the old one, your friends will know who you are and that will definitely downgrade the funny level of prank call. Also you need to add your friend to the contact list of your new Skype account. Simply click the Add button and input the Skype name of your friend. When he/she approve the request, you can go on Step 2.

Step 2 Test your voice and make a prank call to your friend.

Before start the prank call on Skype, you need to start Skype Voice Changer first and get it connected to Skype. I will recommend you to test the voice effect then choose the voice status you want to use. You can now start the prank call on Skype! Call your friend with a funny voice to get a good laugh!

Step 3Record the funny conversation to extend the prank call.

You can enable the recorder to record your prank call on Skype. When you start the prank call, Skype Voice Changer will record the funny response of your friends and save it to your computer. You can share the funny recordings with your friends and make fun of them a second time! At least it will be a sweet memory of your friendship. :-)