Remote Control
If you are the network administrator in your office, you must have the power of everything is under control in your local area network. Sometimes you need to access some others' computer to solve problems, that's why we introduce IP - MAC Scanner to you to remote control your network clients.
Related Software

AthTek IP - MAC Scanner is the world leading tool for network management and network analysis. This famous tool is designed for both network administrators in the office and LAN users at home. This tool keeps your networks under security control.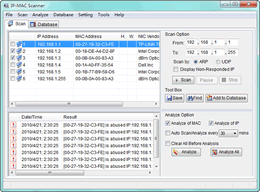 Quick Scanning: Traverse all the IP and MAC on LAN.
Analyze Network Usage: Check every IP by recorded database.
Track Illegal Client: Easily find illegal client who is connected to your network.
Remote Control: Remote shut down and informing board.
Order Now to Get 100% Money Back Guarantee in 30 days!
Solution
Step 1Open remote clients on LAN.

Hit "Tool" and choose "Open Computer" to get access to some others' computer on LAN. Usually you will be asked to input the administrator's name and the password.

Step 2Access the desktop of remote clients.

Hit "Tool" and choose "Call Remote Desktop". You will be asked to browser the client which you want to access. You are allow to configure this function by clicking "Option". After that click "Connect" to access desktop of remote client.

Step 3 Shut down remote clients.

Hit "Tool" and choose "Remote Shutdown". You will be asked to input the IP which you want to disconnect from the network. Also you are allowed to kill the processor and saving data on the client side before you shut oit down, as well as sending a short message to the remote client. Get more details about how to use the remote control functions.