Free Tutorial for First Time Use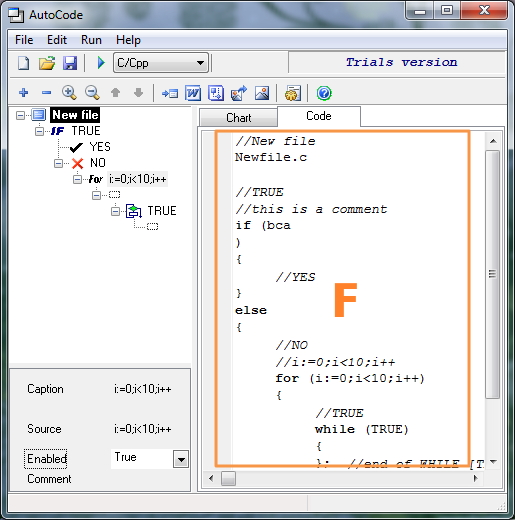 A: Menu.
File:

Edit: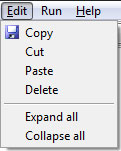 Run:

Help: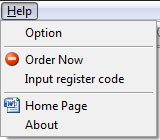 B: Tool bar

New file,

Open file,

Save file

Genetate code,

Choose code language

Expand current node,

Collapse current node

Zoom in,

Zoom out,

Move up,

Move down
C: Structure Tree
Right-click to add, remove, or edit node.
D: Property Secion
Edit the property for each node.
E: Chart Section
Shows the full flowchart here. Right-click on any node to add, remove, or edit.
F: Code Section
The generated code will be shown here. Note: you should click

to generate code first.
Flowchart to Code
Automatically create pseudo-code by clicks. Software development without writing code. C, C++, C#, Java, JavaScript, Delphi are supported. Free software engineer from repetitive and mechanical programming work.
Users' Review
I'm very glad that AthTek Flowchat to Code launched finally. I'm a extended user of Code to Flowchart for the past two years, and had been always thinking that it would be great if I can generate source code from the flowchart. Happily, I get this one. It's as good as the old one.
--------- Philip Bond, from Birmingham
Related Software
Code to Flowchart
Automatically convert source code to flowchart without drawing skills.
WebXone
Fast create rich internet applications (RIA) from non-web-based software projects.
Flowchart to Code
Automatically create pseudo-code by clicks. Software development without writing code. C, C++, C#, Java, JavaScript, Delphi are supported. Free software engineer from repetitive and mechanical programming work.