Advertise on Free Google Desktop Translator
Why us
Tired of calculating the advertising budget on Google Adwords? Being mad of that you promoted your products on Groupon but actually caused lost to your business? Have ever spent lots of money on the traditional markets or media but gained only a little profits? Now a better promotion opportunity comes to you, to advertise on free google desktop translator with quite low costs and high value created. Want to meet millions of potential customers all over the world? Get your business on Google Desktop Translator now!
Payment Method
Please ask for an advertisement place by sending an email to partner@athtek.com with your info. You may pay the advertising fee via Paypal. Choose your advert type below and get your business promoted to millions of potential customers. We will get in touch with you in hours for the advertisement materials:
Advertise Plan
Option.1 Top banner for a year
Option.2 Top banner for a month
Option.3 Highlight Website URL, only $300/month
Option.4 List in Cool Site, only $300/month
Where are the customers
As you maybe know, the user of our Google Desktop Translator are from 150 countries all over the world, including Unitied States, Europe, Canada, Australia, China, India and Mid-East. If you are willing to promote your business in these coutries, our advertise plan would be good choice. Please see the customer map below: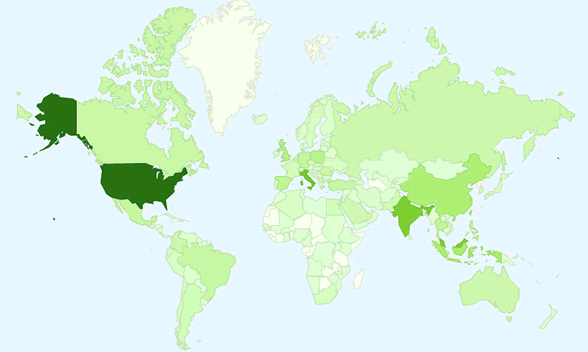 Help you to choose a befitting promotion plan
Now let me introduce where we put your adverts, and please choose your favorite one when you are ready to benefit from those promotion plans.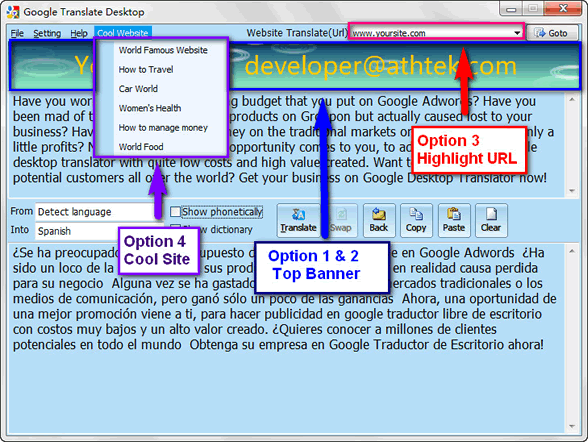 Option 1 & 2: your advert content will be displayed on the top banner. All of our customers will see it and click on it if they have interests. This is the most effective way to promote your business.
Option 3: we will put your website url into the box in front of the 'Go to' button. You'd better have a short and meaningful domain name for your website. If the customer want to know more about you, they click the button and your web page will be translated to their language. Magical, isn't it?
Option 4: your website will be included into the cool site list. Those potential customers will access to your site from here. You don't need to pay any additional free like PPC and you will win great traffic from this entry.
Remember that we will contact you once you have finished the payment, to collect the promotion materials. We are trying to schedule your promotion as soon as possible!
Option.1 Top banner for a year
Option.2 Top banner for a month
Option.3 Highlight Website URL, only $300/month
Option.4 List in Cool Site, only $300/month
Who can benefit from these promotion plans
Definitely you, you can benefit from these promotion plans. If your business is language school, travel agency or e-magazines, that would be perfect! We can help you fast reach your potential customer all over the world. Even you just want the world knows who you are, you can advertise yourself on this widely used free desktop translator!
Want to gain your first pot of gold from the world's greatly growing markets like China or India? Want to make money from the world's richest men in the Middle East? Advertise on the free Google Desktop Translator, and you will get what you want!

Users' Review
This program won my favor at the first sight. I used to use Google Translate Online to scan Websites or communicate with my foreign friends, but I soon found that sometimes it was not so stable to handle, till i found this translator. I have recommended it to many of my friends. I really love this! ------------------------------- Julie Cowell, HR from North Dakota
Tags
free google translate, free google translation, google dictionary, google translate client side, translate english, translate spanish, translate Japanese, translate chinese, translate germany
Related Software
IP - MAC Address Scanner
IP - MAC Scanner is a smart network tool for home user or small business owner to fast scan and analyze all the connections to their network.
Free Voice Changer
Flexibly change the voice pitch of imported audio file.