Print Layout Designer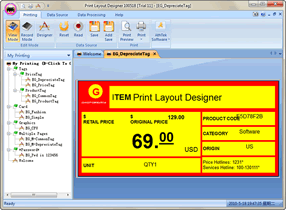 Print Layout Designer is developed for business owners to dynamically print different designs with only one click. It works together with a common printer, and attaches separate contents to printings such as labels, trademarks, bar codes, business cards, covers, coupons, tickets, even integrated circuit diagrams for one click publishing. Print Layout Designer will greatly save your money and time in business. With this desktop publishing software, you don't need pay money to printing agency any more.
What is dynamic printing? Suppose that you were preparing invitations for a wedding. That would be hell if you write down hundred of names on those invitations all by hand. An intelligent way is to use a dynamic printing software such as our Print Layout Designer. Simply attach the name list to invitation on your computer, all names will be printed on those invitations automatically.
Be Used For
Invoice Printing:
If you are running a clothes shop or a book shop online, you maybe need to print hundreds of invoices every day. To write download every buyer's address by hand will be a torturous job. You will waste a lot of time to write download your customers' names and addresses, and check them over and over again. You can free yourself from hell. With Print Layout Designer, you are able to dynamically print thousands of invoices with only one click. The only thing you need to do is to attach the customer list to Print Layout Designer on your computer, then you will have all the invoices printed with every customer's name and address separately. Print Layout Designer is the best choice for online store owners.
Bar Code Printing:
Print Layout Designer can help you print bar code efficiently. Suppose you are a designer and you should add bar code to new batch of goods. It's really difficult to handle that huge amount of data and give unique bar code to each. Print Layout Designer will provide a dynamic printing solution to you. Simply attach the bar code database to Print Layout Designer, you will be able to print thousands of different bar codes with only one click.
Ticket Printing:
Print Layout Designer can help you print tickets with separate names at one time. Suppose you are in charge of printing tickets for business invitation, there would be thousands of audiences' names must be marked on the tickets separately. Will you write down all the names by hand? Tickek with their names means respect. Also they would be pleasure if they can see their names marked on the ticket. Print Layout Designer will help you with this unbelievable printing work. Choose a ticket template in Print Layout Designer, make the name list attached to your ticket, then you will be able to print all the tickets with separate names by only one click.
Key Features
Dynamic Printing

To achieve high efficiency, Print Layout Designer supports dynamic printing. Dynamic printing function enables user to print different printings at one time. All work will be done by one click.

Abundant Free Templates

Several Kinds of free templates are provided for easy layout design. Users can print them directly or modify them for customized use, which will help user to save a lot of efforts and time.

Intelligent Database Reference Method

Print Layout Designer uses intelligent database reference in dynamic printing. The only thing you need to do is to attach the database to your print designs. Third party database can be also supported.

Advanced Print Designer

Print Layout Designer is also an advanced printing designer. WYSIWYG mode enables you to design the printings flexibly. Even you are not so good at printing design, you can easily get what you are imaging with this printing designer.

Office 2007 Style

Print Layout Designer runs with an Office 2007 style. The familiar interface will help novice to handle it in minutes. If you have ever used MS Office Suite, you would be able to use it in dynamic printing either.

Project Preview

Print Layout Designer supports preview mode as what Office 2007 can do. It enables you to preview the layout design, to check whether it is perfect for publishing or to make some modifications in time.

Brilliant Expansibility

You can allowed to save your customized templates into Print Layout Designer. All the templates are lifetime free for use. Besides, you can also use third party database on Print Layout Designer. That's why it has been called dynamic printing software.

Clean Interface, Less CPU and Space Occupied

Print Layout Designer has an Office style interface, which can make it easy for use. It occupies only a few CPU and disk space, which make it easily achieves better performance in dynamic printing.
System Requirements
| | |
| --- | --- |
| OS | Microsoft® Windows 2000, XP, Windows Vista, Windows 7 and 8 |
| Processor | 1GHz Intel/AMD processor or above |
| RAM | 256MB RAM (512MB or above recommended) |
| Free Hard Disk | 20GB space for installation |
| Graphics Card | Super VGA (800×600) resolution, 16-bit graphics card or higher |

Users' Review
I have tried other products before, but this one is the best. I'm engaged in the printing business, and have to tackle thousands of customers'needs. It provides me with abundant templates and easy operations. Especially, when I have to print separate names or serial numbers, I just need one click to cover it. It is a terrific tool! -------- Bela Grazer
Related Software
Data Recovery
AthTek Data Recovery is a reliable and practical tool for operating system restoration and deleted files recovery...