Tutorial of AthTek Free Voice Changer
I must say:
Actually AthTek Free Voice Changer is such a handy audio tool that you don't need to view a tutorial before you can use it. It has clearly listed 4 steps to change voice pitch within only one panel. All you need to do is to follow the instructions step by step.
Tutorial of Free Voice Changer:
However, I have to add some content here to make it to be a tutorial. Let's learn how to use AthTek Free Voice Changer step by step:
Step.1 import an existing audio file
Currently AthTek Free Voice Changer can only work with an existing audio file. The format could be *.wav, *.wma or *.mp3. If you don't have any existing audio file, you can make one with a voice recorder. There are many voice recorders including free ones. I will take the free Windows Sound Recorder in this tutorial because we all have it on our computers.
Click Start -> Accessories -> Sound Recorder, you will see Windows Sound Recorder as follow: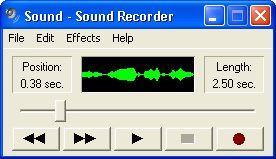 Press the Record button and speak to microphone, your voice will be recorded into a *.wma file. Import this recording to AthTek Free Voice Changer then.
Step.2 add sound effects to the imported audio file
There are 3 ways for you to add sound effects: change voice pitch, voice speed and timbre. AthTek Free Voice Changer supports 22 semitones and 2 octaves voice pitch. Generally semitones up will make your voice sounds like female, and semitones down will be your voice sounds like male.
If you select the option of "maintain timbre", the timbre of your voice will be kept after voice changing. Everyone has unique timbre. If you have ever used other voice changers, you would probably know that the timbre will be screwy after changing voice pitch. What makes AthTek Free Voice Changer to be a recommended audio tool, it can perfectly keep your unique timbre when changing voice pitch.
Move the Speed change bar left or right, the speed of your voice will be changed to high or low.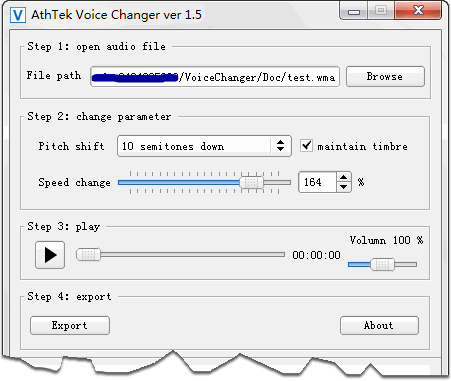 Step.3 preview the sound effects
When you are setting the sound effects in Step.2, you would be able to preview the sound effects in Step.3. Then you would be able to know whether this is the sound effects you want. If not, you can go back to Step.2 and try another sound effect.
Step.4 export a new audio file
Once you have got a satisfied sound effect, you can now export it to your computer as *.wav file. Till now, everything is done by your hand!
Any suggestion?
We make AthTek Free Voice Changer all by our imagination. It may be not so nice to be a user-friendly free voice changer, but we do want to improve it in the following updates. That is why we want to ask you for your suggestions to AthTek Free Voice Changer. You can simply tell us what features we should include to it, you can also help us in redesign of the interface. What do you think a good free voice changer should be? We are still waiting for your answers. We appreciate any reply from you and will love to impove the software by your opinions!
If any, please contact us to let us know. Thanks in advance!
System Requirements
| | |
| --- | --- |
| OS | Microsoft® Windows XP, Vista, Win7 & Win8 |
| Processor | 1GHz Intel/AMD processor or above |
| RAM | 512MB RAM (1GB or above recommended) |
| Free Hard Disk | 50MB space for installation |
| Sound Card | N/A |
AthTek DigiBand
An intelligent music software application for Windows. It can automatically generate music compositions by one click. It can also improvise accompaniments to audio files, solo singing or computer keyboard playing. It enables users to create original music easily in seconds.
Users' Review
I have searched free voice changer for a long term. Most of them are too complex which make me no confidence to learn and use. Until I found this one, a retired old man like me can easily use it for fun. Thanks to AthTek.
----- Mr.Smith, retired man in Texas
Related Software
AthTek DigiBand
Handy music software which can automatically compose music and improvise accompaniments.
All-in-One Voice Changer
It can change your voice pitch in not only Skype calls but also other IM tools.
Skype Voice Changer
Change your voice pitch to a male or female flexibly in Skype call.