Code to FlowChart - Create Open Source Flowchart in Seconds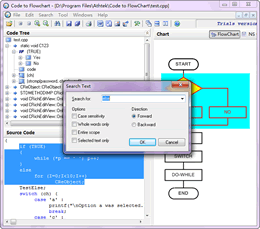 To create open source flowchart is an important programming experience for software developers. It is truly pain to learn how the open source takes effect, and it is inefficient to draw the flowchart from open source manually. You can try this open source flowchart creater to convert the piece of open source to flowchart automatically. This program is developed for software developer and document writer to generate flowchart from open source project automatically, and it supports most of the popular programming languages such as C, C++, VC, Pascal and Delphi. By using this open source to flowchart converter, you can easily and exactly view the structure of open source project.
Why I need to buy a Key after trial?
* The trial version will expire after running for 30 times, and you need to register it for unlimited use;
* Since you buy the registration key, you can get our free technical support for 24/7;
* You are free to update our program even if there is a great updating and we have raised the price;
* 100% money back guarantee in 30 days.

Why This Tool
Take Advantage of Open Source:
For some skilled software developers, it is a shortcut to use open source project in programming. You can free download many useful open source projects over the internet, and just with a little alteration you can easily insert the piece of open source into your project. Sometimes you got a piece of open source, but you have no idea about what this piece of open source really is. Why the provider build a project like that? Does this really meet my demands of my project? Questions are always surrounding your free downloaded open source project. The best way to solve this problem is to create flowchart from the piece of open source directly. The flowchart will tell you how the piece of open source takes effect in your project. By using our Code to FlowChart Converter, you can clearly view the open source flowchart in seconds, with no manual drawing is required. The open source code to flowchart converter will automatically generates high quality flwochart from the piece of open source, and then you will be able to know whether you can take advantage of that piece of open source.
Key Features
Create Open Source Flowchart / NS Chart

With this Code to FlowChart Converter, you can freely test many pieces of open source projects and select the best one conveniently. It can generate open source flowchart automatically, with no manual drawing is required.

Printable Open Source Flowchart in Visio/Word/SVG/BMP(Bitmap) Format

You are allowed to export the open source flowchart to 4 kinds of document formats, including MS Word, SVG, Bitmap and Visio. You can also print the open source flowchart with only one click.

Pascal/ Delphi/C++/VC/C Code to Flowchart

Most of the popular programming languages are supported with this open source flowchart tool, including C, C++, VC, Pascal Delphi, etc. It has been recommended by many Android and iphone App developers recently.

Troubleshooting

Once you have finished a project, the next you need to do is troubleshooting. With our open source flowchart tool, you can effortlessly find any existing bug in the project. Every detail is visible to your eyes.

Automatically Create

You don't need to edit the piece of open source, this flowchart tool will help you to generate a high quality flowchart automatically. You don't need to learn how to draw a flowchart, all tasks will be done in seconds.

Fully Expanded

You are able to generate a fully expanded open source flowchart with this programming assistant. It can help you to disassemble the source code to unbelievably detailed level, with no tiny code section be ignored.

Project Overview

Once you have finished a programming project, you need to test it over and over again for bugs. This programming assistant can help you to generate a project overiew in seconds.

Browsing and Navigation

This flowcharting tool also provides browsing and navigation services. With browsing and navigation in programming, software developer can get better performance in troubleshooting and quote.

Highlighted Boxes

This code flowchart tool will highlight some of the boxes if they were cores of the whole project. You can easily view how it takes effect as well as the data stream in the flowchart.

Synchronize Between Flowchart and Source Code

Our code flowchart tool contains three parts: Code Tree, Source Code Editor and Flowchat. Whenever you click on any part of the source code section or code flowchart, the three parts will be synchronized at the same time.

Auto Formatting

Source code in this programming assistant can be formatted automatically. The only thing you need to do is to open your project with our code flowchart tool. Then you will find the source code in the project has been auto formatted.

Editable Flowchart/ NS Chart

The flowcharts and NS charts are editable after you have exported to document files. ie. you have exported a piece of open source flowchart to MS Word. You are allowed to modify or delete any box, or add comments to the flowchart.

Friendly to Both Senior and Junior Programmer, Document Writer

This open source flowchart tool is very powerful but easy to handle. Even you are a novice to programming, you are able to create professinal flowchart from open source. Besides, the flowchart quality is quite elegant for presentation use.
System Requirements
| | |
| --- | --- |
| OS | Microsoft® Windows 98/2000/2003/2008/XP/Vista/7/8 |
| Processor | 256MHz Intel/AMD processor or above |
| RAM | 256MB RAM (512MB or above recommended) |
| Free Hard Disk | 100MB space for installation |
| Graphics Card | N/A |

Users' Review
I am a software developer. I have to say this product really brings me lots of convenience. I will always use this product to examine my code. It is really helpful to have a straightforward diagram to present the complex code. Thanks to this product, now I can save a lot of time for locating logic errors and other problems. -------------------------Alejandro Valdés, software developer from Madrid
Tags
source code to flowchart, visual code to flowchart, convert code to flowchart, code to flowchart converter, c code to flowchart, delphi code to flowchart, code to flowchart software, software development, programming assistant, translate coding to flowchart, flowchart code, code flowchart, program flowchart, software flowchart, flowchart from code, source flowchart, open source code to flowchart, c to flowchart converter, convert pascal source code to flowchart, PHP code to flowchart, code visual