Best IP Scanner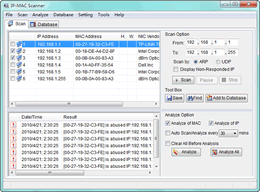 If you are looking for the best IP scanner, you will be satisfied with this IP Scanner. It can fast scan IP addressed from both distributive and DHCP IP addresses, and you will be able to see more information from the IP Scanner. It scans IP addresses by ARP or UDP quickly, and the scanning results can be saved to database. As a powerful IP Scanner, it supports remote control to the connected clients, as well as sending to short message to the remote desktop. IP Scanner removes many useless function to keep high quality IP scanning for its users.
It is recommend to free download and try the trial version before the payment. You are allowed to use the fully functional free trial version for 15 days. If you like it, you can register IP Scanner by then.
Quick View of Best IP Scanner
Main Board

This is the main board of IP Scanner. It includes scanning results (A) and analytics results (B). you can scan the network by ARP or UDP. In some cases, there will be totally different results between the two ways. You can set whether those non-responded IP addresses should be displayed.

Database inside IP Scanner

You can save your scanning results to Database, or add IP to MAC manually. Please make this list exactly the same with just the clients of network. When you click to analyze the scanning results on the main board of IP Scanner, it will check back to Database one by one. You are allowed to edit any content in Database.

Email notification by IP Scanner

A notification email can be sent to your automatically by IP Scanner at intervals. The only thing you need to do is to configure this setting under "Setting - Send Email Report". This is very convenient to know the network status even you are abroad.


Send message to the desktop of any network client by IP Scanner

You can easily send message to the desktop of another network client by IP Scanner.

If you still feel hard to use AthTek IP Scanner, please view how to use.

Users' Review
It is really an excellent IP scanner. With it, I can monitor my network in amazing efficiency. First, it is incredibly fast. I've used other products, but it's really my favorite. By the way, the remote control function facilitates my management a lot. -- James Johnson
Related Software
Webcam Surveillance Monitor
Webcam Surveillance Monitor Pro streams video from the webcam directly to your video surveillance system...
AthTek NetWalk
AthTek Netwalk is the best network monitoring system in the world. It supports to sniff packets from the network traffic. Also It can be used as powerful IP Scanner and MAC Scanner.