Network Analyzer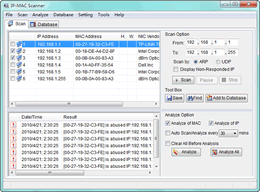 IP-MAC Scanner can not only be used as an IP scanner, but also a network analyzer. It fast scans all the clients on LAN, then proceed to the network analyzer. The network analyzer will compare the scanning results with registered clients, and tell you which are the unknown ones. You can set to analyze by IP or MAC address for various analytics purpose. You can also add, modify, remote any items in database to tell the network analyzer that the exact registered clients. As a smart network analyzer, IP – MAC Scanner enables to analyze the scanning results automatically, and many other extra functions like remote control.
It is recommend to free download and try the trial version before the payment. You are allowed to use the fully functional free trial for 15 days. If you like it, please register this network analyzer by then.
Introduction of Network Analyzer
Control panel of network analyzer

You need to scan the network before the network analyzer could output a report. You can set it by ARP or UDP, and the scanning results will contain all details about the connection, including DHCP clients and wireless clients.

Database

Network analyzer use a database to confirm the scanning results. If there is any item out of the database, network analyzer will tell you it may be an illegal connection. You can also manually change the database as your need.

Email notification

You can receive the email notifications at intervals from the network analyzer. Simply input the necessary information to the boxes, your network status will be emailed to you even you are abroad.


Send message to remote desktop by network scanner

Once you have found unknown clients connected to your network, you are able to send a short message to its desktop.

If you still feel hard to use this network analyzer, please view how to use.

Users' Review
It is really an excellent IP scanner. With it, I can monitor my network in amazing efficiency. First, it is incredibly fast. I've used other products, but it's really my favorite. By the way, the remote control function facilitates my management a lot. -- James Johnson
Related Software
Webcam Surveillance Monitor
Webcam Surveillance Monitor Pro streams video from the webcam directly to your video surveillance system...
AthTek NetWalk
AthTek Netwalk is the best network monitoring system in the world. It supports to sniff packets from the network traffic. Also It can be used as a powerful network analyzer.