Automatic Composer -- AthTek DigiBand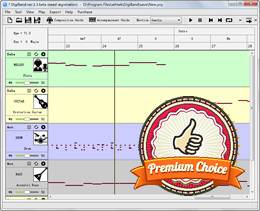 AthTek DigiBand is an automatic composer for Windows that helps you to write your own songs automatically and effortlessly. It has been called as "A Real Automatic Music Composer" in 2014. More and more people start using AthTek DigiBand for music composition learning and inspiration seeking. With a clean interface, it can generate music all by clicks. Besides, it can also improvise an accompaniment to any midi file, virtual keyboard playing or even your optionally humming. AthTek DigiBand almost requires nothing of music knowledge but can generate music easily in seconds.
As the best automatic composer in 2014, AthTek DigiBand supports to work on Windows XP/Vista/7/8 for music composition. No matter you are a professional musician or a newbie to music, you will find use of this automatic composer. It supports to edit midi, vsqx (Vocaloid3), ust (format of UTAU) and nn files directly, and export the music as midi or wave file format.
Why Choosing This Automatic Composer
What does an automatic music composer should do?
An automatic music composer should be able to compose music easily in seconds. It provides "AUTO" option to users to generate music without any musical knowledge required. Besides, a good automatic composer should also provide advanced options to generate customized music.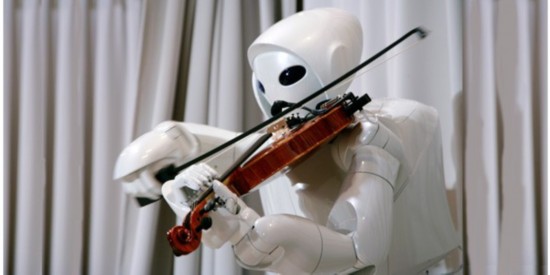 What can AthTek DigiBand do?
AthTek DigiBand can not only compose music all by one click, but also provides many advanced options for customized music composition. As the best automatic composer in 2014, AthTek DigiBand provides advanced options such as music emotions, genres, instruments, chords, etc. With these options, you can easily create customized music which is definitely copyright risk free.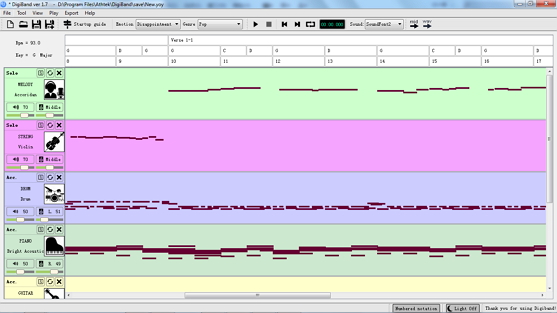 System Requirements
| | |
| --- | --- |
| OS | Microsoft® Windows Vista, Windows 7 and Windows 8 |
| Processor | 2.0GHz Intel/AMD processor or above |
| RAM | 1GB RAM (2GB or above recommended) |
| Free Hard Disk | 1GB space for installation |
| Graphics Card | No requirement |

Users' Review
The program is really awesome!!!! ... The unique charakteristik of the program is its straight structure and simplicity to use, no other program I have tested so far in this area is comparable in this point, stay with that no matter what happens and what anybody may ask for!
--------- Richard Schönfeld in German
AthTek DigiBand
An intelligent music software application for Windows. It can automatically generate music compositions by one click. It can also improvise accompaniments to audio files, solo singing or computer keyboard playing. It enables users to create original music easily in seconds.