Remote Control Tool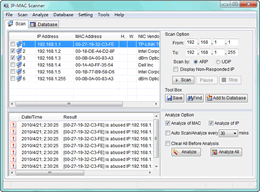 All the administrators need the ability of remote control, and IP – MAC Scanner enables remote control on LAN. Especially in the office network, administrators must be able to keep all the clients under control. If there is problems on the client side, administrators should connect to the remote desktop and troubleshoot the problem. Usually the remote control tool is provided by network management system like Windows server. But with IP – MAC Scanner, you don't need to spend so much money on that. IP – MAC Scanner enables you to login the desktops of other clients in seconds for remote control.
It is recommend to free download and try the trial version before the payment. You are allowed to use the fully functional free trial version for 15 days. If you like it, please register this Remote Control tool by then.
Quick View of the Remote Control Tool
Control panel

Before remote control, you must know that how many clients are connected to the network, as well as DHCP clients via wireless connections. This remote control tool supports to scan all the IP and MAC addresses which are connected to the network. You can pick up any of the connected ones for remote control.

Database

If you have already backed up the registered clients into database, they will be listed here. If there is additional information of remote control you want to add to record, you can add comments to any item in database.

Email notification

The remote control options can be found in Tools menu, you are allowed to call a remote desktop, shutdown any client on LAN, open the file manager of them, even wake up them on LAN. You can also send the remote control status to yourself as below:


Send message to remote desktop

If you want to let the clients know that you are going to connect to their desktop for remote control, you can use this message function to send them a short message.

If you still feel hard to use this remote control tool, please view how to use.

Users' Review
It is really an excellent IP scanner. With it, I can monitor my network in amazing efficiency. First, it is incredibly fast. I've used other products, but it's really my favorite. By the way, the remote control function facilitates my management a lot. -- James Johnson
Related Software
Webcam Surveillance Monitor
Webcam Surveillance Monitor Pro streams video from the webcam directly to your video surveillance system...
AthTek NetWalk
AthTek Netwalk is the best network monitoring system in the world. It supports to sniff packets from the network traffic. Also It can be used as remote control tool on LAN.