AthTek Skype Parental Control (SkypePC)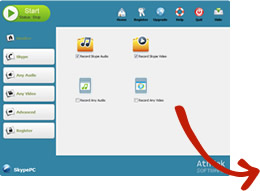 AthTek Skype Parental Control (SkypePC) is an invisible Skype call monitoring application for parents. It can automatically start with Windows and record both audio and video calls through Skype. It runs stealthily in hidden mode and sends the recorded content to you through emails. You can also set SkypePC to record the microphone or the full screen by specified program/process. AthTek SkypePC is somehow overkill and please DO NOT use it in any illegal activity. SkypePC is designed for parental control only.
Please note: the free trial has a 3 minutes maximum recording length limitation of each call. If you want to have full Skype call recordings, please buy a license key to register AthTek SkypePC.
Invisible Monitoring Application for Skype Parental Control
General Application Infomation:
| | | | |
| --- | --- | --- | --- |
| Setup File Name: | Version: | File Size: | Release Date: |
| skypepc.zip | 1.5 | 2.98 MB | March 12, 2017 |
| Windows Compatible: | Skype Version: | Advanced Function: | Languages: |
| 10/8(8.1)/7/Vista/XP | Skype v3.0 or later | Hidden, Email, etc. | English |
Video Introduction:
Please DO NOT use AthTek SkypePC in any illegal activity!
Key Features
Invisible Monitoring

Once installed, Skype Parental Control will run in background silently. It won't create any icon on desktop and any folder in start menu. It has better stealth capability than hidden mode of AthTek Skype Recorder.

2-Step Verification

Skype Parental Control requires 2-Step Verification: hotkeys and unlock password. Even if the hotkeys have been pressed by accident, the application still requires the customized unlock password to be shown on desktop.

Automatically Record Both Video and Audio Calls Over Skype

Skype Parental Control supports to record both Skype video and audio calls automatically. It has the same high recording quality to AthTek Skype Recorder. The different is Skype Parental Control doesn't require accessing Skype before recording.

Trigger Monitor Based on Other Programs/Processes

Parents can use SkypePC to record the microphone or the full screen by setting the trigger monitor. Any program or process could be added to the list of trigger monitor. Once any of these programs/processes started, SkypePC would start to record.

Auto Email Recordings

As an advanced parental control application, Skype Parental Control supports to send the monitoring results to you through emails. Currently, you can use Gmail, Outlook, Hotmail or Yahoo email account to receive the monitoring results.

Auto Upload Recordings

Just like AthTek Skype Recorder, users of Skype Parental Control can also use FTP Uploader to upload all the recordings to a web server automatically. If you have no idea about FTP Uploader, please read How to use FTP Uploader.

No Skype API is Required

Most of the 3rd-party applications for Skype require running with Skype APIs, but Skype Parental Control does not. This means there won't be any popup message on Skype shown that an application is using Skype.

Easy for Use But Powerful

Skype Parental Control has an extreme clean interface. Even a computer novice can use it for parental control. But it is still somehow overkill and please DO NOT use SkypePC in any illegal activity.
System Requirements
| | |
| --- | --- |
| OS | Microsoft® Windows 10/8 (8.1)/7/Vista/XP both 32- and 64-bit |
| Processor | 1GHz Intel/AMD processor or above |
| RAM | 1 GB RAM (2 GB or above recommended) |
| Free Hard Disk | 2 GB free space for saving multimedia files |
| Graphics Card | 16-bit graphics card or higher |

Editor's Review
I 'm so glad to recommend this parental control software to the parents who want to take good care of their children. SkypePC enables parents to monitor their children's Skype and get rid of any possible dangerous activity. You will have a new perspective to know your children and help them when necessary.
----------- Jenney Marko.