Video Surveillance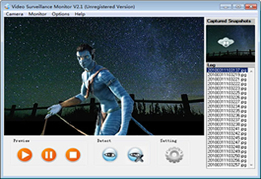 Webcam Surveillance Monitor Pro is advanced video surveillance software. This video surveillance system enables you to monitor places where security risks exist. Any motion detail will activate the video surveillance system, and the alert alarm will ring to give warnings. The video surveillance system will help you keep record of what's happened in your absence.
With an ordinary camera installed on your PC, you can build up the video surveillance system with Webcam Surveillance Monitor installed in no time. You will have a fully functional video surveillance system at low price and provide a safety control for your properties.
Be Used For
Baby/Pet Video Surveillance:
This video surveillance monitor can help you monitor your baby and your pet. Imagine this, your baby is still sleeping and you have to go to work. When you are at work, you will worry whether the baby has waked up and is crying for you. Also imagine this, you have some precious antiques and are afraid that your naughty dog may break them, or you worry that you little dog may run away from home in your absence. Video Surveillance Monitor can build up your remote surveillance system. It can take snaps when your baby or pet has a small movement and stream the video to your side.
Parking Area Video Surveillance:
Video Surveillance Monitor can help you monitor your parking area. After parking your car, you will always worry that some hostile guys or naughty children may scrape your car, don't you? You will also worried that car thieves will pick your car, don't you? With the Video Surveillance Monitor, you can build up your own remote video surveillance system and keep a close eye on your car. It will be activated by motion events and take pictures at the same time. Meanwhile, it will give alarms to warn you of usual events. Besides, the pictures can serve as evidence when car thefts do happen.
Private Garden Video Surveillance:
Video Surveillance Monitor can monitor your private garden efficiently. You don't want your private garden treaded by some hostile guys or naughty kids, do you? In the past, you might raise a watchdog, or employ some watchmen, but both of them were not economical. Now, you have a better alternative: Video Surveillance Monitor. It can build up your video surveillance system at low price and high efficiency. It can sense any abrupt motion, and capture the image. The best part is its warning alarms to let you know the events and take actions to prevent bad things. Your video surveillance system can do almost everything of what a digital security camera can do, but cost less money.
Key Features
Sound Alarm When It Happens

Video Surveillance Monitor will alert you if there is something happenning. There are 3 kinds of default alarms, and you are allowed to select another from your computer. Your video surveillance system will catch snapshots when there is alarm.

Automatically Catch Snapshots

Video Surveillance Monitor automatically catch snapshots once there is sothing happenning in front of the camera. You will know every detail of what has happened. Also these timestamped snapshots will be saved to your computer.

Timestamped Snapshots

Video Surveillance Monitor can add a timestamp to every snapshot. You can easily find who is doing what at the exact time. If you are using a remote camera, the timestamp will be adjusted to the remote time automatically.

Remote Video Surveillance

Video Surveillance Monitor supports remote surveillance. The video surveillance system will be based on your LAN connection. You need to use "Client" and "Server" mode to build up your remote video surveillance system.

Keep Your Home Under Security Guard 24 Hours A Day

Video Surveillance Monitor is an economical choice for people who want to guarantee their home security. Whenever there is uninvited guy in your home, the video surivellance system will keep everything in record.

Video Sending And Receiving

Video Surveillance Monitor uses "Client Mode" and "Server Mode" for remote video surveillance on two or more computers. The "Client Mode" is used for receiving video, while the "Server Mode" is used for sending video to it.

Compatible with Win7

Video Surivellance Monitor has abundant running experiences on Windows 2003, XP, Vista and Win7. You can easily install or uninstall this program to your computer, especially on Win XP, Win Vista and Win 7.

Cheap But Effective

You don't need to spend a lot of money to buy a digital video surveillance system, Video Surveillance Monitor costs less than 30 USD. But what it can do, is more effective than traditional security video surivellance device.

Simple To Use

What you see is what you get. Video Surveillance Monitor has a neatly designed interface, which let you easily handle it. Even you don't know the software so well, you can still use it in video surveillance smoothly.
Related Bundles
| | |
| --- | --- |
| OS | Microsoft® Windows 2000, XP, Windows Vista, Windows 7 and 8 |
| Processor | 1GHz Intel/AMD processor or above |
| RAM | 256MB RAM (512MB or above recommended) |
| Free Hard Disk | 4GB space for installation |
| Graphics Card | Super VGA (800×600) resolution, 16-bit graphics card or higher |

Users' Review
This little tool is quite economical and powerful. When I go to travel with my family, it is the one that will take care of my home. It is like a loyal guard. Whenever there is some suspected thing moving, it will give alarm. It enhances our home security remarkably --- Anuga Shah
Tags
webcam surveillance, video surveillance, surveillance, surveillance monitor, motion detector, security surveillance camera, home surveillance, surveillance software, security motion detection, webcam software, CCTV software, camera guard, home security, security camera, camera surveillance, video monitor
Related Applications
IP - MAC Address Scanner
IP - MAC Scanner is a smart network tool for home user or small business owner to fast scan and analyze all the connections to their network.
Video Call Recorder for Skype
A popular tool which can record Skype call in high-quality video file.