Auto Music Composition Software - AthTek DigiBand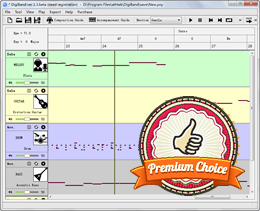 AthTek DigiBand is an auto music composition software application for Windows. It enables people to write a song quickly all by selections. It doesn't like any other music composition software which requires rich music knowledge. Even a child can use AthTek DigiBand for music composition. To veteran musicians, AthTek DigiBand can be used as an idea generator. Even with the same selections, it can generate totally different music every time.
As the best auto music composition software, AthTek DigiBand provide a straight way to composition. It can also be used as an auto accompaniment software application. With an imported midi file, computer keyboard playing or even humming, AthTek DigiBand will improvise an accompaniment effortlessly. If you are looking for an automatic music composition software application, AthTek DigiBand would be the best choice for you.
How to Use This Music Composition Software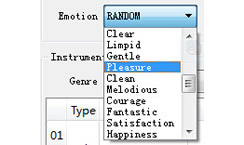 Music emotions
When you start the music composition software, you will be asked to select the emotion of your music. Different songs have different emotions. Some songs are peaceful, some songs are fierce. No matter what music you want to compose, you must want to express your emotion. AthTek DigiBand has preset an emotion list for you to select the one you like in your music.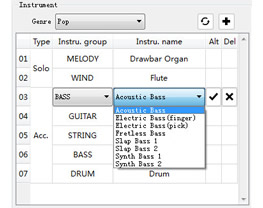 Genre and instruments
A music genre is a conventional category that identifies pieces of music as belonging to a shared tradition or set of conventions. Generally, different music genres require different instruments. For example, pop music requires guitar, bass and drum. Classical music requires harp, piano and saxophone. The great majority of musical instruments fall readily into one of six major categories: bowed strings, woodwind, brass, percussion, keyboard, and the guitar family. Fortunately, AthTek DigiBand supports them all in music composition.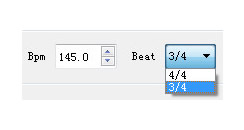 Beat in music
Rhythm in music is characterized by a repeating sequence of stressed and unstressed beats and divided into bars organized by time signature and tempo indications. AthTek DigiBand supports 3/4 and 4/4 beat in music composition. Users can also set the BPM (beat per minute) in this music composition software.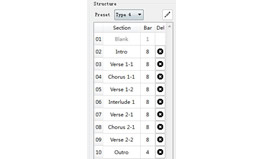 Music structure
Structure in Music is a term that is used to mean a type of composition of a musical work or piece such as concerto or symphony. Generally, music structure contains intro, verse, chorus, interlude and outro. They band together to be a complete song. As a great music composition software application, AthTek DigiBand supports 8 music structure types and you can also customize it simply by clicks.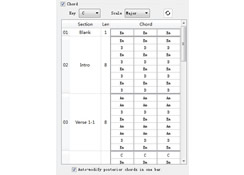 Chord
A chord in music is any harmonic set of three or more notes that is heard as if sounding simultaneously. As an intelligent music composition software application, AthTek DigiBand will generate chords of your music automatically. You can also change the chord settings as you wish. Simply click the refresh button, all the chords will be changed instantly. After that, you can press the Auto Composition button to generate your music automatically.
System Requirements
| | |
| --- | --- |
| OS | Microsoft® Windows Vista, Windows 7 and Windows 8 |
| Processor | 2.0GHz Intel/AMD processor or above |
| RAM | 1GB RAM (2GB or above recommended) |
| Free Hard Disk | 1GB space for installation |
| Graphics Card | No requirement |

Users' Review
The program is really awesome!!!! ... The unique charakteristik of the program is its straight structure and simplicity to use, no other program I have tested so far in this area is comparable in this point, stay with that no matter what happens and what anybody may ask for!
--------- Richard Schönfeld in German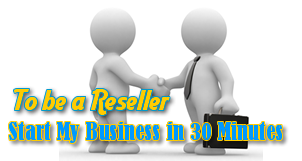 AthTek DigiBand
An intelligent music software application for Windows. It can automatically generate music compositions by one click. It can also improvise accompaniments to audio files, solo singing or computer keyboard playing. It enables users to create original music easily in seconds.