Auto Accompaniment Software-- AthTek DigiBand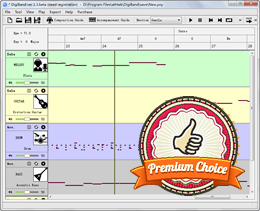 AthTek DigiBand is a piece of auto accompaniment software for Windows. It can improvise an accompaniment to imported audio file, virtual keyboard playing or even your solo humming. No matter you are a music savvy or newbie, you can take advantages of this auto accompaniment software in your music composition. With the smart Startup Guide, you can easily find your way to improvise accompaniments like a genius. With AthTek DigiBand, everyone can get closer to the beauty of music.
If you are looking for some automatic accompaniment software, AthTek DigiBand would be a recommended option for you. It doesn't have too many options for you to choose before you can improvise an accompaniment. You can just follow the inside instructions to improvise an accompaniment in seconds. It will create totally new accompaniments to a same vocal every time.
4 Ways to Use This Auto Accompaniment Software
You can use AthTek DigiBand as an auto accompaniment software app in 4 ways: pure instrumental accompaniment, accompaniment to audio file, virtual keyboard playing and solo humming. You can find all of them in the Startup Guide of AthTek DigiBand.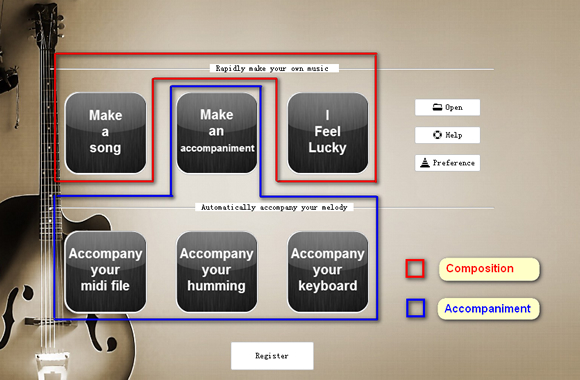 1. Pure Instrumental Accompaniment
Click on "Make an accompaniment", you would be able to make a pure instrumental accompaniment automatically with AthTek DigiBand. Usually, a pure instrumental accompaniment is used for background music in a presentation, show or video. In music, accompaniment is the art of playing along with an instrumental or vocal soloist or ensemble, often known as the lead, in a supporting manner. When you are using this auto accompaniment software to improvise a pure instrumental accompaniment, there was no main vocal in the music.

2. Accompaniment to Audio File
Click on "Accompany your midi file", you can import an audio file to improvise an accompaniment automatically. Actually, you can not only import a MIDI file, but also a VSQX, UST or NN file for an automatic accompaniment. MIDI is the most ever used audio format to improvise an accomaniment. The imported audio file can be fully parsed into by this auto accomapniment software. A new accompaniment will be created in seconds based on the audio file you imported.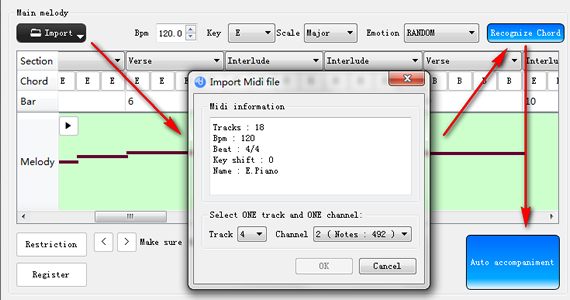 3. Accompaniment to Solo Humming
Click on "Accompany your humming", the auto accompaniment software would be able to improvise an accompaniment to your solo humming. You only need to record your solo humming with the beats. AthTek DigiBand will recognize the melody in your humming and improvise an accompaniment to it automatically.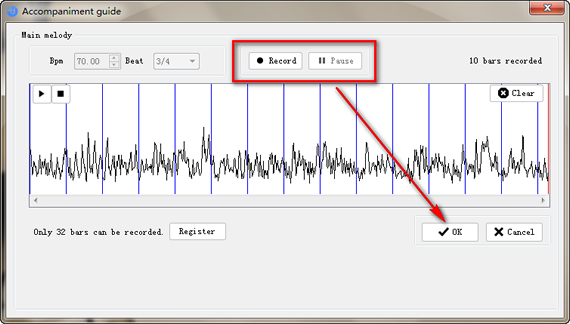 4. Accompaniment to Virtual Keyboard Playing
CLick on "Accompany your keyboard", you would be able to play music with a virtual keyboard and improvise an accompaniment to it. Virtual keyboard is a chargeable program in other auto accompaniment software, but you can use it for free in AthTek Digiband.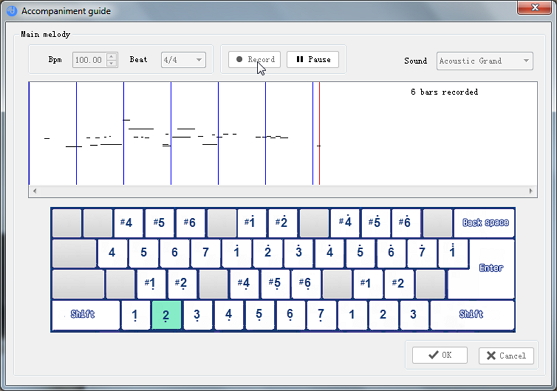 AthTek DigiBand is not just a piece of auto accompaniment software. You can also use it as an auto music composition software application. Click to view more info about AthTek DigiBand.

Users' Review
The program is really awesome!!!! ... The unique charakteristik of the program is its straight structure and simplicity to use, no other program I have tested so far in this area is comparable in this point, stay with that no matter what happens and what anybody may ask for!
--------- Richard Schönfeld in German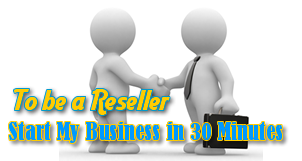 AthTek DigiBand
An intelligent music software application for Windows. It can automatically generate music compositions by one click. It can also improvise accompaniments to audio files, solo singing or computer keyboard playing. It enables users to create original music easily in seconds.