Auto Music Composition Application - AthTek DigiBand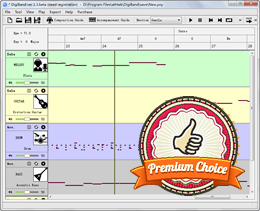 AthTek DigiBand is an automatic music composition application for Windows. Even without any chord typed in, it can generate a complete arrangement of piano, bass, drums, guitar, and strings or horns. It has been called "The Most Easy-to-use Music Composition Application" because of the excellent performance in using. It doesn't like any other music composition application which requires rich music knowledge. Even a child can use AthTek DigiBand in music composition. What makes it a fantastic music composition application, even with the same selections it can generate totally different music every time.
As an user-friendly music composition application, AthTek DigiBand supports to work on Windows XP/Vista/7/8, both 32- and 64-bit systems. It supports to import various audio files for accompaniment, and export the composition as MIDI or WAVE file. If you are looking for an automatic music composition application, AthTek DigiBand would be the best choice for you.
Introduction to This Music Composition Application
Below is popular Punk band song made by AthTek DigiBand, produced by wendyvainity
Why This Music Composition Application
Because AthTek DigiBand has some unique features
We don't want to write too much advertisement content on this page, but our music composition application is really worth a try. It is maybe the best for automatic music composition. It ingeniously uses emotions to produce different feelings in music composition. It supports to convert audio tracks to numberic notes in seconds and virtual keyboard for personalized accompaniment.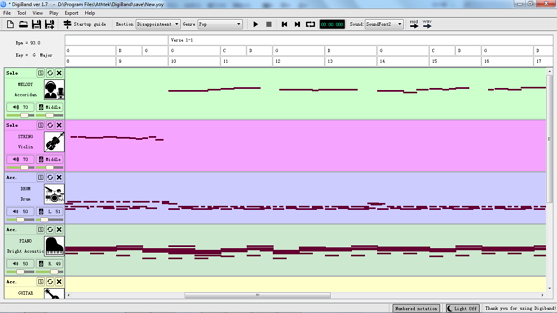 System Requirements
| | |
| --- | --- |
| OS | Microsoft® Windows Vista, Windows 7 and Windows 8 |
| Processor | 2.0GHz Intel/AMD processor or above |
| RAM | 1GB RAM (2GB or above recommended) |
| Free Hard Disk | 1GB space for installation |
| Graphics Card | No requirement |

Users' Review
The program is really awesome!!!! ... The unique charakteristik of the program is its straight structure and simplicity to use, no other program I have tested so far in this area is comparable in this point, stay with that no matter what happens and what anybody may ask for!
--------- Richard Schönfeld in German

AthTek DigiBand
An intelligent music software application for Windows. It can automatically generate music compositions by one click. It can also improvise accompaniments to audio files, solo singing or computer keyboard playing. It enables users to create original music easily in seconds.