Free AthTek NetWalk Personal Edition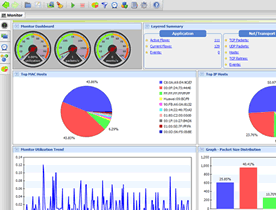 This is the free personal edition of AthTek NetWalk. It has the same dash board and performance with AthTek NetWalk Enterprise Edition, but it also has a few limitations for use.
AthTek NetWalk enables network administrator to monitor traffic throughout the network, and gives a graphical real-time collection of data which the network adapter is accessing, including all the different websites/host address, ports, trends, etc. AthTek NetWalk can be used as an education tool for novice to learn network monitoring and packet sniffing knowledges. If you intend to be expert in network monitoring or packet sniffing, you will love this compositive networking tool!
The free personal edition allows your to capture packets less than 50 MB and 4 hours a day.
View the Enterprise Edition of AthTek NetWalk please click here >>>
Be Used For
Home Network Troubleshooting:
It happens all the time: one day you come back home, open your local area network, but find that you cannot access to other computers on your home LAN. You can't use files on other computers, you can't transfer files to other computer, and you failed to connect to the home LAN. Why? You have no idea what has happened to your home LAN, even less to fix it. If you want to get rid of the risk like this, you should install AthTek NetWalk Personal Edition to your computer as early as you can. AthTek NetWalk keeps monitoring your home network for troubleshooting. It records every detail about your network and generates the analytics data report in many graphic charts. You can easily keep your network security by using AthTek NetWalk.
Capture packets for analysis:
There are too many things you need to consider about for home network analysis. You could hardly know all of them, more than using them for your network analysis. But professional network analyzers are almost designed for business use, and they all cost a lot of money. How to analyze my family network? Don't worry, you can use Free AthTek NetWalk Personal Edition! It is a killer for packet sniffing, network monitoring and analyzing. Most of all, it's totally free. AthTek NetWalk is usually used for business use, but this is the free edition for home users. It has a graphic interface for you to handle it easily. Detailed connection chart make it clearly for you to know what is happening to your family network, and which is dangerous to your network. You can help yourself in network issues, without calling for help to an real network analyzer.
Intrusion Detection:
Network intrusion detection system is a type of security management system for networks. An intrusion detection system integrates and analyzes data from various areas within a network to identify possible security risk, which include both intrusions from outside and misuse from local area network. Intrusion detection monitors the entire network and kick intrusion out by packet sniffing. AthTek NetWalk can help network administrators conveniently build up the intrusion detection system which is technology developed to assess the security of network.
Key Features
Take Advantage of Wireshark

AthTek NetWalk is the ONLY network analysis tool to offer full integration with Wireshark, and it performs better than using Wireshark. It has better speed, enables large trace files, and is more stable than Wireshark.

Support Super Large Trace File

Quickly open and analyze multi-gigabyte trace files in seconds. The speed is about 6 times up than Wireshark. Even you got a super large trace file in packet sniffing, it is as easy as drinking coffee with AthTek NetWalk.

Built-in Traffic Filter

With the powerful traffic filter, network administrators can easily identify and cut off specified internet communications while packet sniffing. Built-in filter models help network administrators easily control P2P, MSN, Yahoo Message, etc.

Perfectly Support IPv6

AthTek NetWalk is the ONLY packet sniffing tool which can perfectly support IPv6. Most of packet sniffing tools as well as the network monitoring tools are based on IPv4. AthTek NetWalk provides the ONLY solution for IPv6 network monitoring!

All Protocols Supported

AthTek NetWalk supports almost all protocols which are applied for internet communication. That means a network administrator can get more real traffic status during the packet sniffing.

Traffic Analyzing While Packet Sniffing

Network administrators don't need to stop packet sniffing, AthTek NetWalk supports real time traffic analyzing while packet sniffing. That means, you don't need to generate the large trace files in some condition.

Intelligent Navigation

AthTek NetWalk includes a complete collection of interactive charts for a detailed analytics report. Intuitive point-and-click on a chart can help administrators a lot in network troubleshooting.

Entire Network Monitoring

AthTek NetWalk learns from many pop packet sniffing tool, and optimized the way of network monitoring. It takes the entire network traffic under control, and generate the network status report by visible diagrams.

Advanced Network Analyzer

AthTek NetWalk provides detailed network analyzing report with kinds of diagrams. It sort all the network traffic into three layers as application, network and physical. It innovates in packet sniffing and traffic analysis.

Expert in Packet Sniffing

AthTek NetWalk is a comprehensive network infrastructure analysis tool which is professor in packet sniffing. It can helps in managing, maintaining and troubleshooting all kinds of networks.

Flexible Graph Interface

Network administrators can freely add or remove any chart on the board. All these charts are preset for a quick overview of network. Dynamic visualization components are preser as an visualized way of packet sniffing.

Packet Capturing

While packet sniffing, all the packets can be easily captured by AthTek NetWalk with one click. Also you are allowed to configure the capturing rules for that. The captured packets can be saved as trace files for further use.

Matrix Map

Matrix Map is used for displaying the activities of all connections. You can see many IPs and hosts on the circle. click them to view more details about this connection. Green line means it is active, while the blue ones mean inactive but happens.

Traffic Trends

AthTek NetWalk supports various traffic trends in graph manager, and they can help a lot in network analyzing. There are some unconspicuous roles in packet sniffing, and you will finally find them in traffic trends.

Professional Network Manager

With the full monitoring, capturing and analyzing functions, AthTek NetWalk will try to be the best network management software all around the world. It will help you to manage you network easily and quickly.
System Requirements
| | |
| --- | --- |
| OS | Microsoft® Windows 2003/2008/XP (SP2 or later), Vista, Windows 7 & 8 |
| Processor | 2GHz Intel/AMD processor or above |
| RAM | 512MB RAM (512MB or above recommended) |
| Free Hard Disk | 2GB space for installation |
| Graphics Card | Super VGA (800×600) resolution, 16-bit graphics card or higher |
Enterprise Edition
AthTek NetWalk concentrates on enterprise network management. It enables the enterprise owner or the network administrator to monitor traffic throughout the network, and gives a graphical real-time collection of data which the network adapter is loading.
Users' Review
I was greeted by a very pleasant looking program that offered more information about networks than I knew existed. It would certainly help if someone who is heavily dependent on networks... Wow, this is an impressive program. It displays a very impressive plethora of network information! ... I've used other packet sniffers over the years, and so far I see very little which might discourage me from using this one. Good job!
---------- From GOTD Comments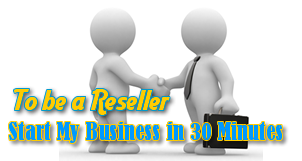 Related Software
IP - MAC Address Scanner
IP - MAC Scanner is a smart network tool for home user or small business owner to fast scan and analyze all the connections to their network.
WebAPP Kit
Fast create rich internet applications (RIA) from PC software projects. AthTek WebAPP Kit enables software developers to make web app directly with Delphi, C builder and VC++.