AthTek NetWalk can run on 3 types of networks:
Using Hubs - The best choice to gain visibility on a switched network is to insert a hub to all the connections. AthTek NetWalk will monitor the traffic through the public port on hub, so that all the communications throughout the network is available and visible in AthTek NetWalk.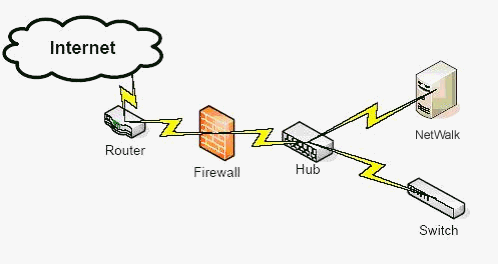 Using a Tap - If you are using Tap on your network, AthTek can easily help you monitor your network. As you already know, Tap is something like Phone Tap. Normally it has three ports on it. Usually the port-1 will be attached to Protected Switch; the port-2 will be attached to Firewall. AthTek NetWalk will attach to the port-3 to monitor all the traffic data throughout your network, so you can know everything about the Tap network.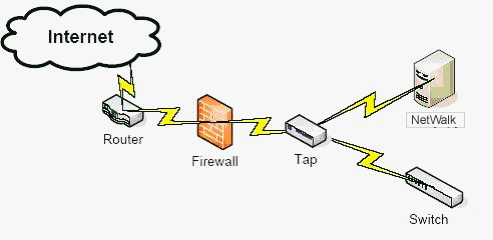 Using Mirror Port - Most switches support mirror port, AthTek NetWalk can help with your network monitoring too by using the mirror port. First you need to configure the mirror port on the switch, and then connect AthTek NetWalk to this mirror port. This kind of mirror network monitoring works like the Tap network, but it will not break the full duplex nature.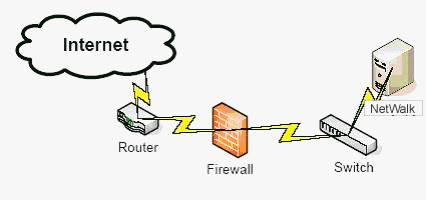 AthTek NetWalk has a lot of advantages, but I just want to show you one of them. Let's see the opening speed compare with three famous competitors.
| | | | | | | |
| --- | --- | --- | --- | --- | --- | --- |
| | AthTek Netwalk | Sniffer | WireShark | WildPackets OmniPeek | ClearSight | CommView |
| Version | 2.1.26 | Pro 4.7 | 1.4.3 | 4.0 | 7.2 | 6.1 |
| 65.6 MB | < 1s | 1s | 7s | 3s | 13s | 3s |
| 126 MB | < 1s | 3s | 14s | 5s | 25s | 6s |
| 247 MB | 2s | 6s | 28s | 11s | 50s | 12s |
| 501 MB | 4s | Out of Memory | 59s | Failed | 91s | 22s |
| 1,003 MB | 14s | Out of Memory | 147s | Failed | 160s | Out of memory |
| 2.14 GB | 34s | Out of Memory | Out of memory | Failed | 210s | Out of memory |
| Price | $499 | from $11,000 | Open Source | $5,994 | $5,995 | $499 |
Test Environment:
CPU: Core2 Duo 2.2GHz
Memory: 2G
Trace files:
©Captured from real network
Double click on the setup file. Follow the instructions to install AthTek NetWalk to your computer.
Note: You will be asked to install WinPcap in the installation processing, please install it to use the full function of AthTek NetWalk.
Click the "Help" - "Visit Web Site...", you will be led to the home page of AthTek NetWalk. Check the latest version there by click the link "Version History". If you are using an old version, please download the latest one and reinstall it.

The network monitoring charts on the main board are for analyzing your network. You may freely add or remove the charts from the main board. Do to so, go to the top right of the main board to the "Add" and "Reset" options, next, on the top left of every chart, you will see a small drop-down menu, simply click on the drop-down menu to see your choices to either minimize, delete, or show original data instead of the chart.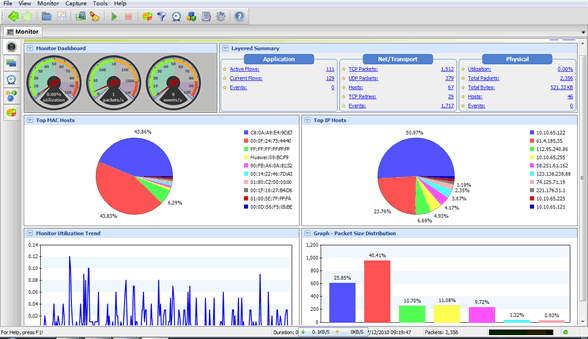 Please press "monitor" in top bar, then press "Swich Adapter..." in the drop-down menu. You will be asked to continue or not, click "Yes" if you are sure for this.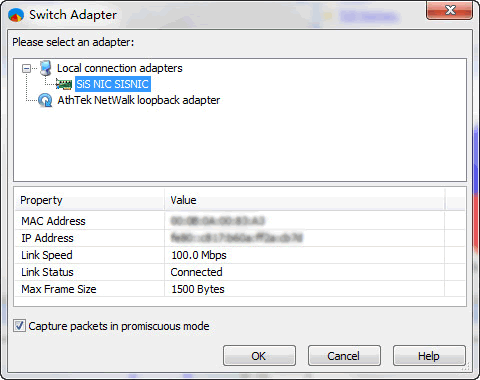 Then select the adapter you are currently using. Click "OK" to finish your setting and you will be able to capture packets through another adapter.
Press the "Layered View" button on left navigation pane to view items in three layers. Now you may access any layer to view the communication details in summary, flows and pages statistics modes.
Go to Event Manager on the bar, select Packet Events to view the "No BitTorrent" listed in the box (for example only) as a network communication. Enable it to block the BitTorrent communication. You can also edit any existing rule by double click on it. You can also make the AthTek NetWalk Security System play an alarm, send an email, execute a program, or cut off the communication.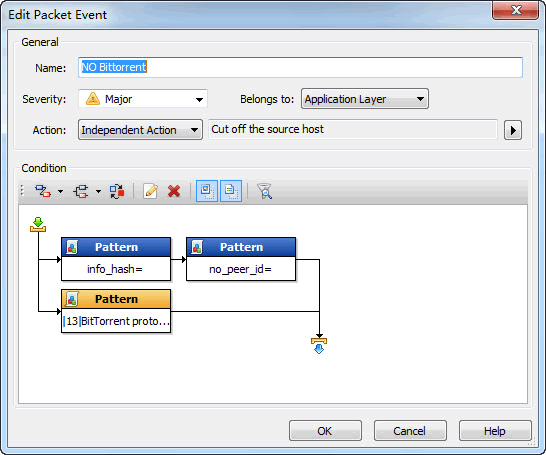 Press F2.
Please click [Capture] in top menu of AthTek NetWalk and access [Capture options...]. In the trigger tab, you would be able to choose Time-based trigger, Filter-based trigger and/or Event based trigger. You can set it to capture traffic in a time range or when there is an event.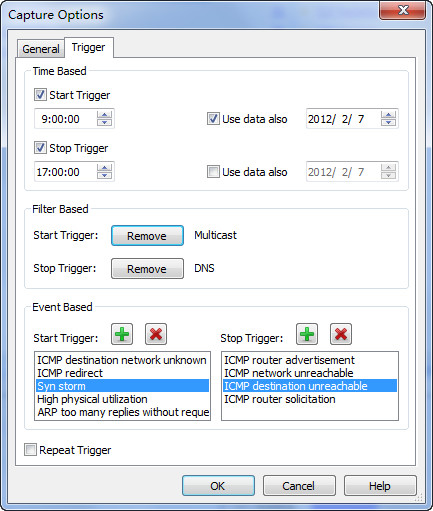 Those captured trace files can be saved as *.enc, *.pcap, *.adc or *.dmp files format. Whenever you want to analyze those trace files, click Open to import them and they will be decoded by AthTek NetWalk, all the traffic data will be on those charts. You will be able to see the conversation details from the flowcharts in analysis results.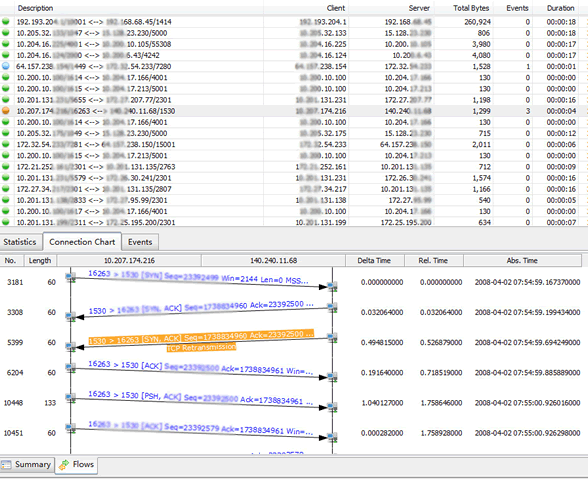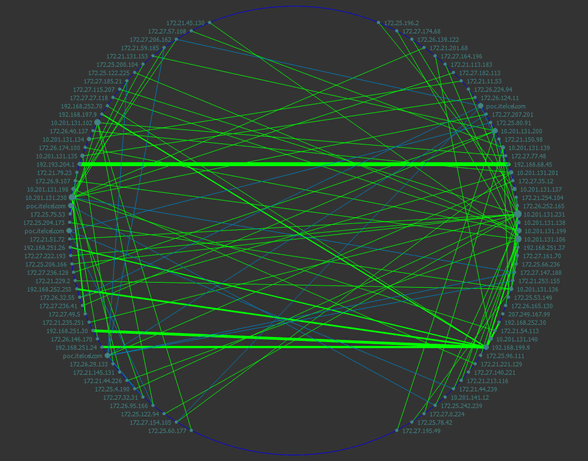 You need to capture packets before decoding packets. AthTek NetWalk can monitor the network in real-time, but will not decode those packets in real-time. After importing an existing captured file, the button "Packets" will appear on the left bar.
How to purchase AthTek NetWalk online?
Click on the button "BUY NOW"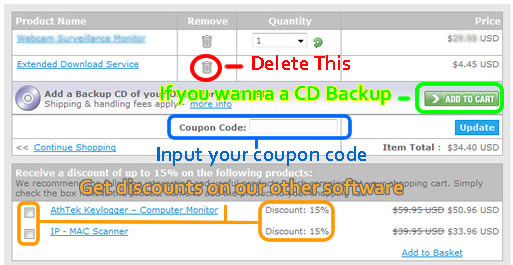 Then input your payment info below and click "Place Secure Order". You will get your registration code by email after you finish the order.
I have completed the payment. When will I receive my license?
Usually it will take less than 12 hours to approve your order. Your license will be sent to the order email within 12 hours after you have completed the payment. If you still haven't received your license after 12 hours, please check the Spam/Junk place in your mailbox. Sometimes the license will be filtered into Spam/Junk place. Please check it if you still haven't received your license.
You can also contact us to require the license again after 12 hours.
How to register AthTek NetWalk for life time use?
Click Help - Register to enter your email and register code into the pop-up box. When you have finished, click Activate button.
Please go to our discount page for details.
Click on "Uninstall AthTek NetWalk" in your start menu, this program will be uninstalled automatically.
Note: this uninstallation can work with AthTek NetWalk, if you want to uninstall WinPcap too, please go to the uninstaller of WinPcap.
AthTek NetWalk is making profits for our affiliates and resellers every year. We offer up to 75% commission for our best partners. You can learn more details from here.
System Requirements
| | |
| --- | --- |
| OS | Microsoft® Windows 2003/2008/XP (SP2 or later), Vista, Windows 7 & 8 |
| Processor | 2GHz Intel/AMD processor or above |
| RAM | 512MB RAM (512MB or above recommended) |
| Free Hard Disk | 2GB space for installation |
| Graphics Card | Super VGA (800×600) resolution, 16-bit graphics card or higher |
AthTek NetWalk
AthTek NetWalk concentrates on enterprise network management. It enables the enterprise owner or the network administrator to monitor traffic throughout the network, and gives a graphical real-time collection of data which the network adapter is loading.
Users' Review
AthTek NetWalk is an ultimately powerful IPv6-compatible network monitoring solution that works with WireShark and WinPcap for extra performance and accuracy. The program provides real-time graphic indication of network activities and key parameters, including websites accessed, ports used, network usage trends and a lot more. It is the best among the likes.
---------- Editors of 3d2f.com
I was greeted by a very pleasant looking program that offered more information about networks than I knew existed. It would certainly help if someone who is heavily dependent on networks... Wow, this is an impressive program. It displays a very impressive plethora of network information! ... I've used other packet sniffers over the years, and so far I see very little which might discourage me from using this one. Good job!
---------- From GOTD Comments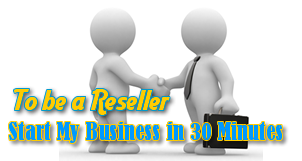 Related Software
IP - MAC Address Scanner
IP - MAC Scanner is a smart network tool for home user or small business owner to fast scan and analyze all the connections to their network.
WebAPP Kit
Fast create rich internet applications (RIA) from PC software projects. AthTek WebAPP Kit enables software developers to make web app directly with Delphi, C builder and VC++.