Skype Recorder For Interviews Recording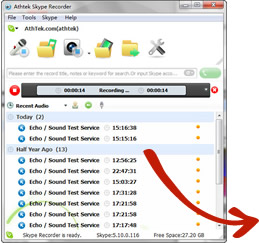 Skype interview is a common way for official remote communications. Especially for nowadays, time is money and people are more inclined to meet online instead of sitting together to have a short conversation. A Skype Recorder can absolutely help in such kind of online interviews. Suppose you are going to have a Skype interview tomorrow morning, you would need to record the Skype call for further reference. At least it will help you to improve your interview skills.
AthTek Skype Recorder is a reliable tool for your Skype interview recording. It can automatically start with your Skype and make everything in record in high quality audio and video formats. Unlike other Skype Recorders, AthTek Skype recorder is able to record Skype video for exceeded long time in an interview. If you are looking for a quality tool for your Skype interview recording, AthTek Skype Recorder is the prior choice for you. It has been recommended by tens of thousands Skype users and international companies. Download the free trial version below to start the new experiences of Skype interview!
How to record a Skype interview (3+1 steps)
Step.1 Install AthTek Skype Recorder

The first thing you need to do for the interview is to install AthTek Skype Recorder on your computer. You can download and install the latest trial version from our official website. If you have ever used other Skype Recorders, you would probably know that they will take over your audio devices for Skype call recording. This will make your system to be unstable and limited. But AthTek Skype Recorder will just keep your system in normal. It won't take over the audio devices for Skype call recording.

After the installation, you will be asked to allow access on your Skype. Click allow to get your Skype Recorder connected to your Skype. You can also manage the connection on Skype's [Tools] -> [Options...] -> [Advanced] -> Manage Other Program's access to Skype.


Then you would be able to connect AthTek Skype Recorder to your Skype. But the trial version only allows to record less than 10 minutes in each Skype call, you need to purchase a license key from our official website to activate your Skype Recorder for lifetime unlimited Skype recording. You can find the Buy Now link in a popup registration reminder. It only costs $29.95 for now and you would be able to record Skype interviews without any limitations for lifetime. Please also send your Skype ID to us to regsys@athtek.com, because we need it to generate the license key special for you.

Step.2 Configurations Before the Skype Interview

Now you can access to your Skype Recorder to configure it for use. You should know where the recorded audio and video files to be saved. As an advanced Skype interview recording tool, AthTek Skype Recorder can record audio and video separately in editable formats. For common use, you can also merge audio into the video while it's recording.


Also you can set the quality of your Skype interview recording. We have already integrated some recommended audio and video encoder into AthTek Skype Recorder. That is why it has been called ''Best Quality Skype Recorder'. If you want to know the features to each encoder and acquire more encoders please go to Get More Encoders.

Step.3 Start Skype Interview

Everything is okay and we can start the Skype interview now! Good interview skills will bring good interview effects. You won't like to be somehow so eager for showing yourself, just take it as talking with your old friends and everything would be fine. There are also some tips for Skype interview: 1. prepare some questions and try to answer them before the interview starts; 2. speak out loudly, clearly and politely; 3. control your speed; 4. smile and say thank you in the end. With these tips you would be the master of the Skype interview!


Additional Step.4 Play Back the Skype Interview

After the Skype interview, you may want to listen to the conversation again. It is very easy with AthTek Skype Recorder. You can find the recording history on Skype Recorder and play it back directly. Try to find the key spot of your Skype interview and at least you can improve your interview skills with the audio or video recordings. Also the recordings are all editable for future use.

If you still have question about AthTek Skype Recorder, please go to how to use.
Users' Review
I am desperate for a recorder going with the Skype, for I am a secretary and always have take notes of important items of some calls. The Skype without the recorder function really causes me much trouble. Fortunately, I found this product. I won't have to fuzz with my notes or miss some important information, because I have audio to refer to. And the elaborately designed interface exactly cover all Skype functions. I think it's really cool. ---------------Cynthia Hoffmann, secretary from California