Frequently Asked Questions

I can't change my voice in Skype v6.22, why?
Please upgrade your AthTek Skype Recorder to the latest version and the problem will be solved.

How to get my license key after purchasing?
Generally, you will automatically access a page which asks you to input the Skype ID or PC Code to generate an instant license key. Please install AthTek Skype Recorder to your computer, then copy and paste exactly the Skype ID or PC Code to that page to generate a license key.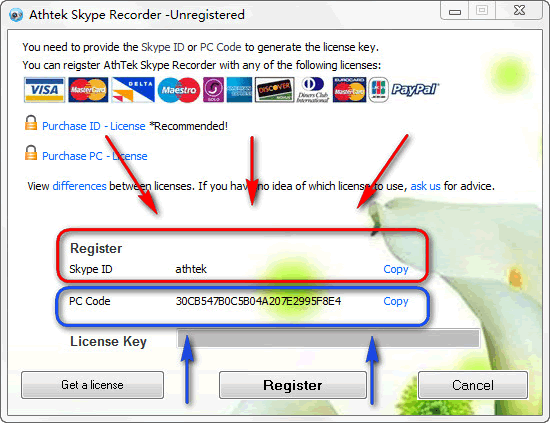 Sometimes this doesn't work, and then you should contact us with your transaction ID and Skype ID/PC Code for help. We will manually generate a license key and send it to you as soon as the transaction has been verified.
Everytime I start to record the video call, it records the full screen.
It will record the full screen in following coditions:
a. you haven't choose the suitable option in Video settings: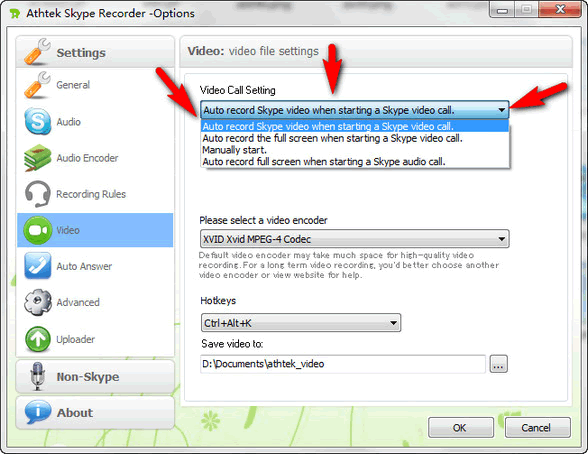 b. you are using Default View of Skype. Click on View on Skype's panel and choose Default View, then you would be able to record exactly the video chat with AthTek Skype Recorder.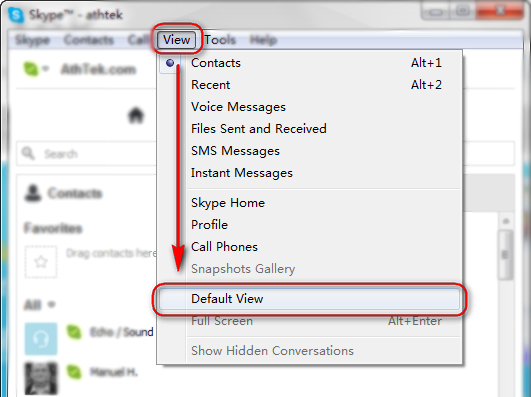 There was no my voice in the recordings, why?
It is a compatible issue with Skype v6.13. If you have found that your voice didn't exist in the recordings, you need to downgrade your Skype to any of the previous versions and turn off auto updates feature. Download Skype v6.8 >>
An error occurs when I record Skype call, and now there's a lot of .in and .ou files in the athtek_tempfile. It mentions a Repair Tool. Where can I find the Repair Tool?
The Repair Tool can be used to repair recording files. You can find this Repair Tool in where you install Skype Recorder. Simply double click on the tool and set the path of those temporary files, then it will help you to combine the temporary files to be a normal audio file.
I'm using Windows 8. When I start a Skype call, the recorder ends in error.
Please quit both Skype and recorder. Find Skype's icon and right click on it. Choose "Run as administrator", then start AthTek Skype Recorder manually. Try to record a Skype call now.
If there still be errors, please also find Skype's icon and right click on it. Choose Properties, then change target info from "....SkypeRecorder.exe " to "....SkypeRecorder.exe " /SHOWEXCEPTION Then try agian to record a Skype call. There should be a new message. Please send the new message to support(at)athtek.com for troubleshooting.
I have upgraded my Skype to V6.0, and then AthTek Skype Recorder cannot record just the video of Skype call. Even I have stopped the video call, it won't stop automatically and keeps on recording the entire screen. Why?
Already Solved! There is a little bug when the recorder works together with Skype V6.0. It cannot detect the video window of Skype V6.0. We will solve this problem in the next update. It is expected to release at the end of this month. Currently, you can set it to manually start video recording. You can drag and drop the video button to the video window to record the video call only.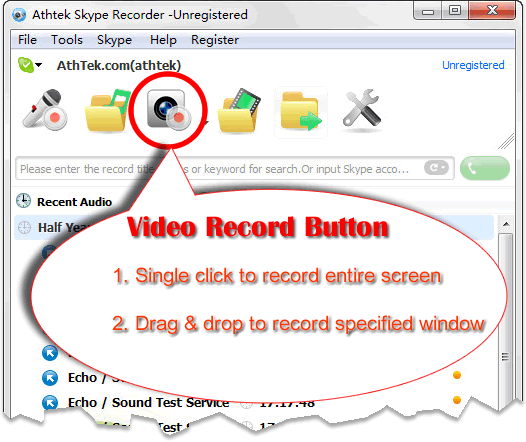 I have received my license key but I still failed to register my AthTek Skype Recorder.
Please check the following items:
* The Skype ID/PC Code is exactly as what you provided. You can find exact the Skype ID/PC Code which you should provided from HERE.
* You have pasted exactly the license key to the key field and pressed the Register button. Then you have quit and restarted AthTek Skype Recorder as the instruction.
Why my AthTek Skype Recorder records the entire screen, not just the Skype video?
You can set it to record the Skype video only. Please run AthTek Skype Recorder and go to
[Tools] -> [Options...] -> [Video] -> Auto record Skype video when starting a Skype video call.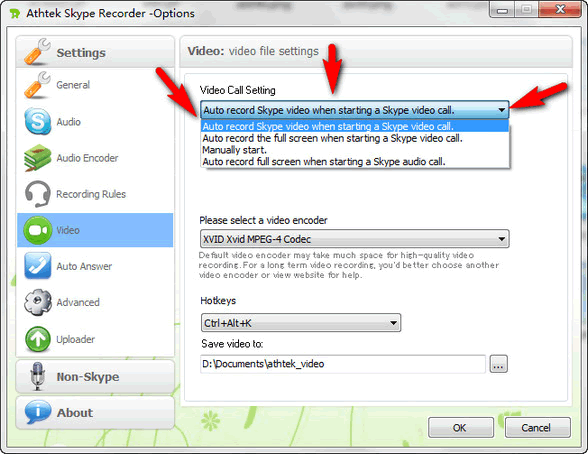 My recorder failed to recognize Skype and it has not asked me to allow access on Skype. What to do next?
Sometimes Skype cannot pop up the dialog to allow access of Skype Recorder, and you can do it manually on Skype. Please run both Skype and Skype Recorder and click [Tools] -> [Options...] -> [Advanced - Advanced Settings] -> [Manage other programs' access to Skype] on your Skype. You will see the dialog as below: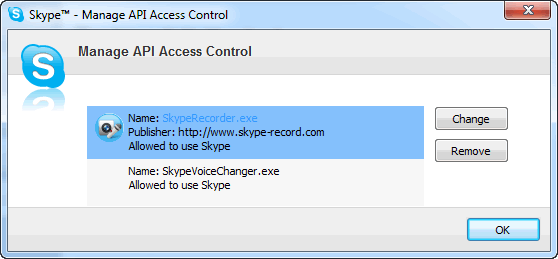 Select "SkypeRecorder.exe" and click Change button.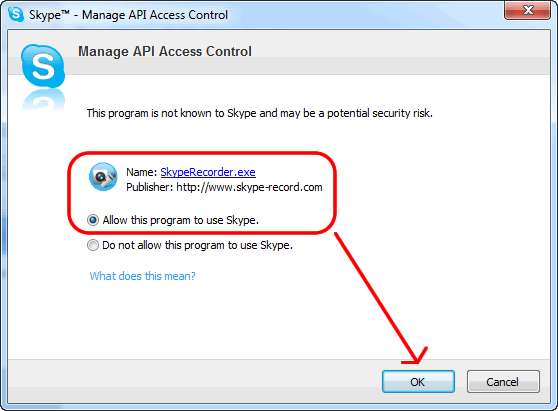 Select "Allow this program to use Skype" and click OK to finish. Then your Skype will be able to recognize AthTek Skype Recorder and you can enjoy the high-quality Skype call recording now!
Is the $29.95 a one time charge or annual or other time frame?
The $29.95 is an one time charge for lifetime license including the free update service.
Can your Skype Recorder be used for video recording?
Absolutely yes! The latest version of AthTek Skype Recorder include the features of video recording. You are able to record Skype video chats with high-quality video format. View how to record video.
Where can I download video encoder? Can you recommend some?
Generally, almost all the video encoders can work on our Skype Recorder. We recommend three of them to you for Skype recording:
You can also try other video encoders from
here
.
Can your Skype Recorder work with multiple Skype users on a same machine?
If you are using Skype Recorder PC Bind License, you can login multiple Skype accounts to record Skype calls. If you are using Skype Recorder ID Bind License, only the registered Skype user can use it to record Skype calls.
I have an ID Bind License. Can I use Skype Recorder on another computer?
Absolutely yes! You need to download and install AthTek Skype Recorder on that computer you will use, and input you license key to activated your license on that computer. Actually you just need to go through the registration process again on another computer.
How can I use this for Skype parental control?
If you want to use Skype Recorder for parental control purpose, you must be able to 1) login Windows with your kids' account and install AthTek Skype Recorder for at least one time. 2) access to your kids' Skype dash board and (how to) allow the connection between Skype and Skype Recorder for at least one time. Then you would be able to use Silent Mode to record Skype chats of your kids and keep them under your parental control.
The interface of Skype Recorder has disappeared, what to do next?
There are kinds of reasons which can prevent the interface showing on desktop. Please try to rescue it as follow:
Step.1 right click on Skype Recorder on system tray, unselect "Undisturb Mode", restart Skype Recorder.
Step.2 try hot heys "Ctrl + Alt + I" or "Ctrl + Alt + L"
Step.3 fully uninstall Skype Recorder, then clean and compact the registry of your system. Reinstall AthTek Skype Recorder to your computer.
An unhealthy system registry may contain thousands of errors, and it will lead to system errors, as well as to pull down your system speed. We recommend to clean and compact the registry of your system monthly, to keep your system under healthy condition. Please find a way to clean your system errors. If you want to use our AthTek Registrycleaner to do this, please go to Best RegistryCleaner to find your solution!
Does the Skype Recorder software record audio from Skype video calls?
Yes, the Skype Recorder can record audio from a Skype video call. You can use the free trial to try recording audio from a video call.
Users' Review
I am desperate for a recorder going with the Skype, for I am a secretary and always have take notes of important items of some calls. The Skype without the recorder function really causes me much trouble. Fortunately, I found this product. I won't have to fuzz with my notes or miss some important information, because I have audio to refer to. And the elaborately designed interface exactly cover all Skype functions. I think it's really cool. ---------------Cynthia Hoffmann, secretary from California