AthTek Skype Recorder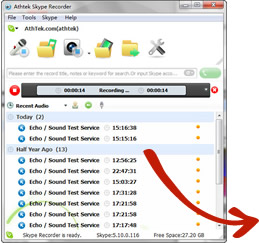 AthTek Skype Recorder is a practical Skype recorder. The Skype recorder well makes up the deficiency of Skype's inability to record Skype calls and explore the functions to the full. The Skype recorder will automatically connect to your Skype and record Skype conversations. You can also upload your recorded audio file to the web server by using the Skype record. All your records will be saved as high-quality audio files.
AthTek Skype Recorder is easy to handle and widely used in recording Skype for private and business purposes. The Skype recorder will save the audio files in great details, including the exact time, the length of call, and etc. Also, in the interface of the Skype recorder, users can realize all the functions of Skype.
Download free trial of AthTek Skype Recorder now to enjoy new experience in using Skype!
Be Used For
Remote Skype Recorder:
The Skype recorder helps you listen to a remote Skype call conveniently. People always makes a call by Skype, but you have no idea about what they are talking about in the conversation. Especially your kids, they maybe make a Skype call on your computer with unwelcome guys. If you are not at home, they may be invited to your home to hold a party. That's what your don't want to become true. If you have a Skype recorder, you will know that earlier, and take steps to keep your kids away from those unwelcome guys. The Skype recorder can record both side of a Skype call, and automatically upload the recorded audio file to the private web server, for you can easily know what they are talking about form the remote side. The whole process will be secretly done by the Skype recorder.
Important Skype Calls Recording:
People often get important calls on Skype: calls from their superiors, calls from important clients, calls from people in need of emergent help. These calls are so important that a minor loss of details can lead to severe consequences, such as losing a job, missing a big deal. But when people subconsciously want to record the contents by writing or typing, the task is so demanding and the results are not reliable enough. All you need is a Skype recorder which is able to record all the conversation details automatically. With the Skype recorder, calls can be immediately recorded as it gets through. And the recording will then be saved to your computer. You would never miss a single detail of important calls with AthTek Skype Recorder.
Recurrence of Skype Call:
Sometimes you want to hear the voice again, because it was the final call from the one you love with. Sometimes, you want to listen to a Skype call again, because it was about your business cooperation and there might be something you have ignored when you were on the call. You could hardly listen to the call again if you don't have a Skype recorder. The Skype recorder can help you to record the voice of your lover, for you are able to hear the familiar voice forever. The Skype recorder automatically takes a note in high-quality audio files when you are making a business call. You are able to replay the call for thousands of times, and you won't miss any chance for your business development.
Key Features
Automatically/Manually Recording

Skype Recorder supports both automatically recording and manually recording. The preset mode is automatically recording to record the call immediately after it gets connected. Or you can set it to manually recording.

Recording With High Quality

This Skype Recorder has the best recording quality in all the Skype Recorders. Even you can configure the audio property in this Skype Recorder. This makes the recorded audio real and nature.

Upload Recorded Skype Calls

The Skype recorder enables you to secretly upload the recorded Skype call to the web server, for you can hear it from a remote side. It runs in an stealth mode and will not be pop-up when recording or uploading.

Records Both Sides of Skype Calls

Not only your voice will be recorded, the other side of the Skype call will be recorded too. It supports recording both sides of the call with high quality and saving the whole conversation to your computer.

Record Details

Skype Recorder can record all the details of the call, including the contents, the precise call time, and the length of call. You can review details of every call in the history call list.

Saving As Audio Files

You can set in what format you sound file will be saved. The Skype Recorder provides two audio formats, WAV and MP3, and you can select the more proper one according to different purposes.

Offline Recording

AthTek Skype Recorder supports offline recording. You don't need to buy a voice recorder for offline recording, AthTek Skype Recorder can help you to record line in voice in high-quality audio files.

Drag and Drop

AthTek Skype Recorder supports drag and drop function. You are able to drag and drop recording history from the interface to a media player or explorer. It is useful for some usage conditions.

Cheap And Easy To Use

Skype Recorder only cost a little money but works a lot. The elaborately designed interface is very friendly to users, and helps users to master the functions very quickly. If you can make a Skype call , you are able to use the Skype recorder!
System Requirements
| | |
| --- | --- |
| OS | Microsoft® Windows 10/8 (8.1)/7/Vista both 32- and 64-bit |
| Processor | 1GHz Intel/AMD processor or above |
| RAM | 1 GB RAM (2 GB or above recommended) |
| Free Hard Disk | 2 GB free space for saving multimedia files |
| Graphics Card | Super VGA (800×600) resolution, 16-bit graphics card or higher |

Users' Review
I am desperate for a recorder going with the Skype, for I am a secretary and always have take notes of important items of some calls. The Skype without the recorder function really causes me much trouble. Fortunately, I found this product. I won't have to fuzz with my notes or miss some important information, because I have audio to refer to.
----- by Cynthia Hoffmann