Skype Video Recorder of AthTek Software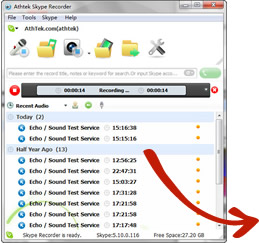 If you are looking for a quality and handy Skype video recorder, AthTek Skype Recorder should be the top choice in your list. It is the most advanced Skype video recorder in the world and has been certified by tens of thousands Skype users. It can record Skype in high quality avi format and keep the video and audio files separately for future use. Also you can choose to merge the audio into video as a complete Skype recording. The quality of Skype video recording depends on its video encoder. AthTek Skype Recorder does't like other common Skype video recorders, they can only use the default encoder for Skype recording. AthTek Skype Recorder has integrated a cool encoder for high quality Skype recording.
As an advanced Skype video recorder, AthTek Skype Recorder also supports parental control functions. It will run in stealth mode and start with Skype program automatically. Once the user has started a Skype call, any movement in front of the cameras on both sides will be recorded and saved to your computer. Download and try this Skype video recorder now!
How to use the Skype video recorder
Step.1 Install and Activate AthTek Skype Recorder

The first thing you need to do for high quality Skype video recording is to install AthTek Skype Recorder on your computer. You can download and install the latest trial version from our official website. If you have ever used an old fashion Skype Video Recorder, you would probably know that it will ask you to install many other plugins for a common Skype video recording. also it will show you a complex control panel on the Skype video recorder. With AthTek Skype Recorder, you don't need to worry about this. It has a neatly designed interface and will guide you clearly how to make a high quality Skype recording.

After the installation, you will be asked to allow access on your Skype. Click allow to get your Skype Recorder connected to your Skype. You can also manage the connection on Skype's [Tools] -> [Options...] -> [Advanced] -> Manage Other Program's Access to Skype.


Then you would be able to connect the Skype Video Recorder to your Skype. But the trial version only allows to record less than 10 minutes in each Skype call, you need to purchase a license key from our official website to activate your Skype Video Recorder for lifetime unlimited Skype recording. You can find the Buy Now link in a popup registration reminder. It only costs $29.95 for now. Please also send your Skype ID to us to regsys@athtek.com, because we need it to generate the license key special for you.

Step.2 Settings Before Skype Video Recording

Now your Skype video recorder is ready for use. Please go to the Video tab to make some basic settings to your Skype video recorder. You can choose whether it should record Skype video calls automatically or not. Select to record the skype video only if you don't need to the full screen recording and want to save some disk space. You can also choose whether to merge audio into video recording. Some users will need the audio and video files saved separately for further editing. As an advanced Skype video recorder, AthTek Skype Recorder integrates xvid codec for high quality Skype video recording. Of cause you can download and install other video encoder yourself. There are some recommended ones and you can get them from More Encoders. The hot keys enable you to start/stop the Skype video recording from keyboard. You are allowed to change the saving path for your Skype video recording.


Also you should know how to manually start a Skype video recording. You can find the video button in toolbar. Single press on it and the full screen will be recorded into the video. Otherwise you can drag and drop this button to the skype video area and it will start to record Skype video. Also this works on other programs, such as MSN video recording, video game recording, etc.

Step.3 Start Skype Video Recording

Everything is okay and we can start the Skype video recording now! If you are using the default video encoder, you will get the best skype video recording quality, but the video will be separate into several pieces in 10 minutes length each. You can select another encoder inside the Skype video recorder. One of our recommendations is XVID. It can also supports high quality Skype video recording but will never separate the video files.


Step.4 View the Skype Video Recording

After the Skype video recording, you may want to view what you have recorded. It is very easy with this Skype Video Recorder. You can find the history inside Skype Video Recorder and play it directly. You can also press the folder icon next to video button and you can get all the Skype video recording files in this folder. If you have chosen to record Skype video and audio separately in Step.2, you can find the audio files in another folder with the same recording length.


Quite simple right? Getting started to use this quality Skype Video Recorder now!
If you still have question about this Skype Video Recorder, please go to how to use.

Users' Review
I am desperate for a recorder going with the Skype, for I am a secretary and always have take notes of important items of some calls. The Skype without the recorder function really causes me much trouble. Fortunately, I found this product. I won't have to fuzz with my notes or miss some important information, because I have audio to refer to. And the elaborately designed interface exactly cover all Skype functions. I think it's really cool. ---------------Cynthia Hoffmann, secretary from California