Compose Music with One-Click

-- Tutorial for AthTek DigiBand V1.7
Introduction
It's a new function for AthTek DigiBand V1.7. Anyone can compose music with only one-click.
Here We Go!
Run AthTek DigiBand V1.7. Click 'I Feel Lucky' button and wait. DigiBand will compose a complete music randomly.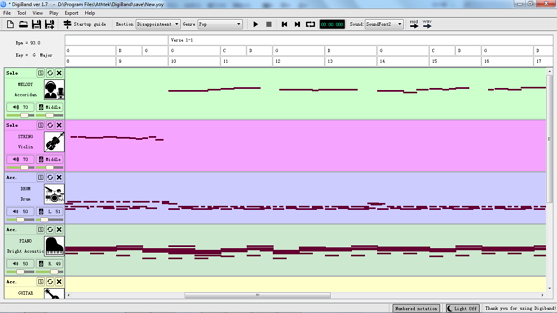 Other Information You May Interested
AthTek DigiBand
An intelligent music software application for Windows. It can automatically generate music compositions by one click. It can also improvise accompaniments to audio files, solo singing or computer keyboard playing. It enables users to create original music easily in seconds.
Users' Review
The program is really awesome!!!! ... The unique charakteristik of the program is its straight structure and simplicity to use, no other program I have tested so far in this area is comparable in this point, stay with that no matter what happens and what anybody may ask for!
--------- Richard Schönfeld in German