Why We Still Need Registry Cleaner for Windows 8?
Windows 8 is the latest operating system of Microsoft till now (April 4, 2013). Maybe we have been suggested not to clean the registry so much on Windows 8 or never. I think it is an arbitrary opinion on Windows 8 and its registry. Yes Windows 8 is more intelligent than any of the previous Windows systems ever, but it still have registry problems if you are not so skilled in using it. Windows 8 runs much more programs in the back ground and that will definitely create much more junk registry entries. Today our computer usually have 2GHz processor, 4GB RAM and 500GB disk drive or above, thus we can seldom feel that the junk registry entries are slowing down the system. But if we run Windows 8 on old computer or we install too many programs to the computer, we will observably feel that our Windows 8 is so slow to open even Skype. That's why we still need a registry cleaner to free our system out of the junk registry entries.
Free to Try Windows 8 Registry Cleaner:

RegistryCleaner is one of the most powerful registry tool in the world. It comes with a neatly designed interface, and help users to scan, clean, compact, backup and restore the registry. RegistryCleaner supports both 32-bit and 64-bit systems, and will observably boost your system speed. It is very simple to use, even a child can handle it by a few clicks, never mind the knowledge of registry.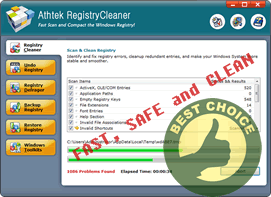 Speed up OS: RegistryCleaner boosts the runing speed of operating system.
Fast scan and compact registry: double engines make it faster than others.
Registry backup & Restore: fully backup and restore the registry.
Protect your computer: keep away from virus, Trojans and keylogger programs.
Order Now to Get 100% Money Back Guarantee in 60 days!
What make it the best Windows 8 registry cleaner?
Faster than othersFast scan, clean and repair registry on Windows 8

If you have ever used any other registry cleaner (including free ones) on Windows 8, you will find AthTek Registry Cleaner is the faster one of what you have ever used. It can scan, clean and repair registry in minutes with extremely high speed. It has integrated a programmed engine special for Windows 8 so as to run faster than any other registry cleaners.

More junk registry entries will be found Completely scan and clean registry on Windows 8

AthTek Registry Cleaner will help you to find much more junk registry entries on Windows 8. We have done the scanning test on Windows 8 for many times. AthTek Registry Cleaner always found much more junk registry entries than any others. I strongly recommend you to test it yourself and you will find what a registry cleaner should do on Windows 8.

Safe and Stable Automatically make registry backups on Windows 8

AthTek Registry Cleaner is the most safe and stable choice for registry cleaner on Windows 8. It will automatically create a backup of Windows 8 registry since you start it. Once there is an unexpected system error, you can recover the system easily with the backup file. You can also make a schedule to clean or backup registry automatically and your Windows 8 will always be in a good condition.
Tags
64 bit registry cleaner, registry cleanup tool, registry booster, regedit cleaner, registry repair, registry cleaner, windows registry, reg cleaner, pc tools, win7 registry cleaner, win7 registry booster, registry tool, clean registry, registry errors, pc cleaner, system cleaner, repair registry, best registry cleaner, Vista registry cleaner, Windows 8 registry cleaner