AthTek RegistryCleaner - Best Vista Registry Cleaner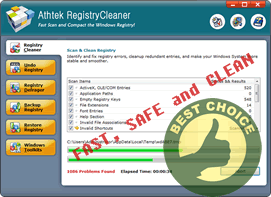 As an important section of system data, registry is vulnerable to errors in cases of improper uninstallation, corrupt hardware drives or shortcuts. These registry errors will slow down and freeze your computer. A Vista registry cleaner is highly needed to fix and prevent these issues. The optimum tweaks a Vista registry cleaner can offer range from scanning, repairing, defragging, backup and restoring. This Vista registry cleaner integrates all these functions and can be operated simply and visually.
This Vista registry cleaner is compatible with both 32-bit and 64-bit system. It provides many advanced and efficient functions in a full version. If you get tired of waiting for applications to open and restart after system freezes or crash, this Vista registry cleaner will certainly cheer you up by boosting your computer!
Fast ways to get a clean and lean system
Scan Vista registry errors

Let's be start up the Vista registry cleaner and start optimizing right now. It won't take over a quarter. First, a fast and thorough scan on your whole registry is needed.

Repair Vista registry errors

Fast enough, all invalid and error entries are listed. You can clear them away according to category or wipe them out with a simple click with activated version of the Vista registry cleaner.

Undo changes

If anything went wrong after the entry removal, there's a way out with the Vista registry cleaner too! Select the potential registry move that might lead to problems, and hit the undo button. The related entry change will be cancelled in no time.


Compact Vista registry

Now let's move on to the next step. After clearing wastes away, what would you do to make your room more orderly? You will sort things out and arrange stuffs closely to get more space. That's what we will do with the Vista registry cleaner. The compact process will take you a while, but you will be glad to get a bigger space.


Backup Vista registry

Your registry is clean and orderly now. Don't you want it to always be like this? With this Vista registry cleaner, you can at least make copy of the ideal registry in case your system meets a severe registry crisis.


Restore Vista registry

Constant error messages, blue screen, system freeze and crash……Your computer is giving you a nightmare?! Don't worry. Load the Vista registry cleaner and here's a way to solve it once and for all. The restore feature can roll your Vista registry back fast and intact.

If you still feel hard to use this best Vista registry cleaner, please view how to use.

Users' Review
Native 64 bit version / extremely fast scanning...........after using it for several days now it's finding a whole lot of errors missed by other 64 bit programs I'm also using, I'm still in a bit of disbelief !
------- Keith Roberts from Texas
Tags
64 bit registry cleaner, registry cleanup tool, registry booster, regedit cleaner, registry repair, registry cleaner, windows registry, reg cleaner, pc tools, win7 registry cleaner, win7 registry booster, registry tool, clean registry, registry errors, pc cleaner, system cleaner, repair registry, best registry cleaner, Vista registry cleaner, Windows 8 registry cleaner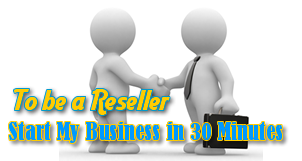 Related Applications
System backup and restore
AthTek Data Recovery supports to fast backup and restore your operating system, as well as important data.
Reinstall DirectX EZ
Reinstall DirectX EZ is the ONLY tool which can fix DirectX errors perfectly. It can get better performance when using together with the best Vista registry cleaner.