July 21, 2011  Development Center of AthTek Software
————-
Print Layout Designer v2.0 has been updated! In the new version, Print Layout Designer includes:
* Add dynamic image printing;
* Optimized the printing speed.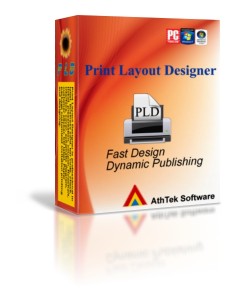 Print Layout Designer is developed for dynamic printing service. If you are running a small business which need to print large amout of bar code/labels/tickets/delivery forms for different people, Print Layout Designer will be the best solution for your printing work. In a traditional way, you need to manually design and print that kind of printings, it is tedious and a waste of time. If you are using Print Layout Designer, you can easily design the print layout and attach a dynamic data source to it, then you are able to get different printings with one-click.

What the feature 'Add dynamic image printing' means in new released Print Layout Designer v2.0? Suppose that, you want to print delivery forms to different cunstomers with different products. You can attach stuffs like product names and prices to the delivery form template, as an additional funciton, you can attach different logos to the delivery form template for a one-time dynamic printing now! Every delivery form has the different receiver names and product logos on it.
Free to design your print layout and enjoy the dynamic printing speed of your business!