RegistryCleaner Has Been Released!
Development Center, AthTek Software, Feburary 17, 2011.
The famous programming tool – Code to FlowChart V1.2 has been released an update.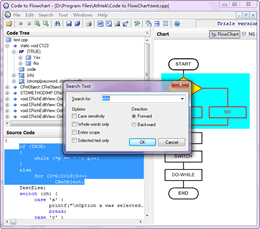 Code to FlowChart is a powerful tool for programmers or document writers to generate flow charts from source code. It supports C, C++, VC++ and Pascal/Delphi, and can export the flowchart to MS Word, VISIO, Bitmap and SVG files.
The new Code to FlowChart V1.2 can not only convert source code to flowchart, but also to NS chart.
We are going to add now functions to the further edition of Code to FlowChart, for example: enable to edit source code directly from the modularity area and generate source code from flow charts.
Everyone who get a registration code before the further edition release, will be allow adding all the above functions for free – you don't need to spend much more money on that in the future.
AthTek RegistryCleaner is Coming!
Automatically generating flowchart from source code – AthTek.com
Automatically Create Flowchart From Open Source
Code to FlowChart Is Planning To Add New Supported Programming Language