May 9, 2012  |  Development Center of AthTek Software
———–
We have just released a new version of Code to FlowChart, Which is able to generate code flowchart/NS chart from *.dsp files. If you are using a full version or trial version Code to Flowchart, you are allowed to upgrade your program to the latest version now.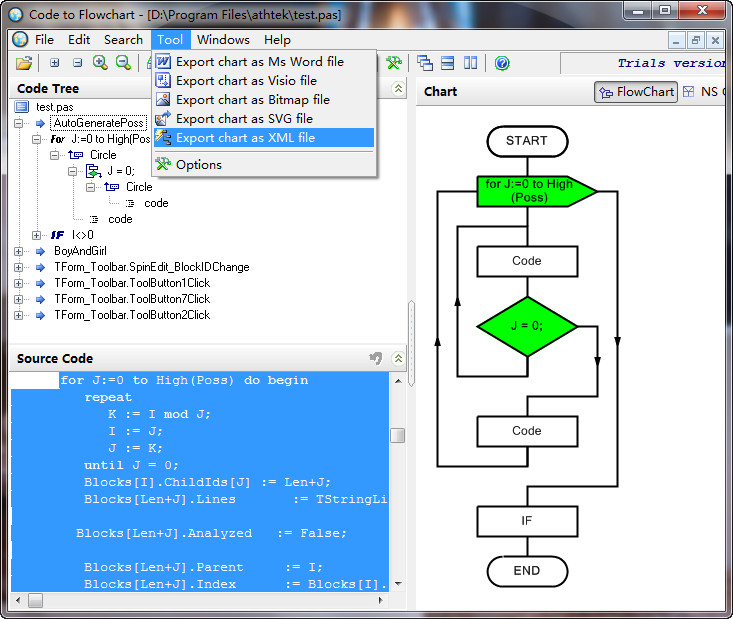 What's new?
* Convert *.dsp file to flowchart.
As you maybe know, the previous version of Code to FlowChart supports to generate flowchart/NS chart from C/C++/Delphi/Pascal. Mr. Blonskey Ofer wanted to generate flowchart from the temporary *.dsp files, but he found that there was no tool can do this. We received his feedback and enhanced our Code to FlowChart Converter to be compatible with *.dsp files. This means you can use our Code to FlowChart to convert *.dsp files to flowcharts now.
AthTek Code to FlowChart is an intelligent code flowcharting tool for software developers and technical document writers. With this tool, you can fast establish an elegant flowchart for your software project. All the segments can be fully expanded or shrunk by clicks. There are more and more software development teams and companies take Code to FlowChart as an important developing tool in their projects. Also there are a lot of students using Code to FlowChart in their educations of programming.
If you are looking for a comprehensive tool which can fast convert the whole project to elegant flowchart, Code to FlowChart V1.5.2 is the most tool you should never miss!