The previous special offer for AthTek Registry Cleaner has been expired at September 30, and the new special offer for October has already been released! The October special offer will cut 20% price off for Webcam Surveillance Monitor. This means you only to pay $24 but you will get the lifetime license which original price is $29.95.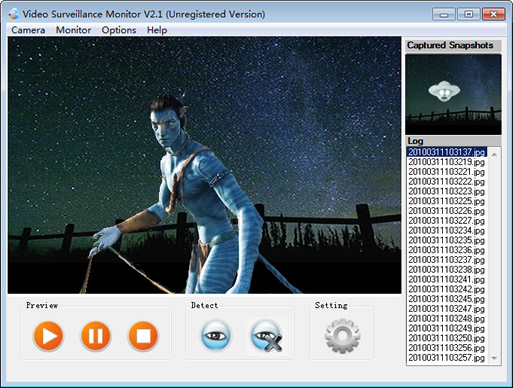 Webcam Surveillance Monitor was named as Video Surveillance Monitor in its program interface. It enables ordinary webcams to be super security cameras. Home security surveillance is an important topic today becuase of the low social security. Especially for the following few months, some important festivals are coming and we may be not at home for celebrations. Thieves may visit our home and we will incur loss of property.
Implement of the burglar alarm devices will cost a lot money – sometimes more than one thousand of dollars for 6 security cameras. But if you have a Webcam Surveillance Monitor, you only need to pay $29.95 for a lifetime license and you will enjoy the same security surveillance services as those security devices. The only thing you need to do is to put the cameras at the right places and activate the security surveillance on your computer. If there were some univited guys in front of the camera, Webcam Surveillance Monitor will sound an alarm to frighten those guys and capture snapshots on their faces.
Webcam Surveillance Monitor is now on special offer. Anyone who buy it in October will get 20% price off. It only provides 99 seats in this special offer. If you are looking for an intelligent webcam software which can improve the security of your home surveillance, Webcam Surveillance Monitor is the one you should never miss!