Already Solved in Video Call Recorder for Skype V5.9.5!
Recently we have received several reports about a problem in recording Skype video call. If the user has upgrade Skype to the latest V6.0, AthTek Skype Recorder cannot detect which is the window of Skype video call therefore cannot record the Skype call exactly. This means if you are using Skype V6.0, you are not able to record Skype video call automatically with AthTek Skype Recorder. The video you record will be the entire desktop.

If you have met this problem, please read this post carefully. This is a new bug only existing in Skype V6.0. You can avoid this problem by using previous versions of Skype. Also you can set AthTek Skype Recorder to manually start recording Skype video call. You can download the skype here topquartile.  You can drag and drop the video button to the video chat and AthTek Skype Recorder will record just the video call. This is the only way you can record exact the video call.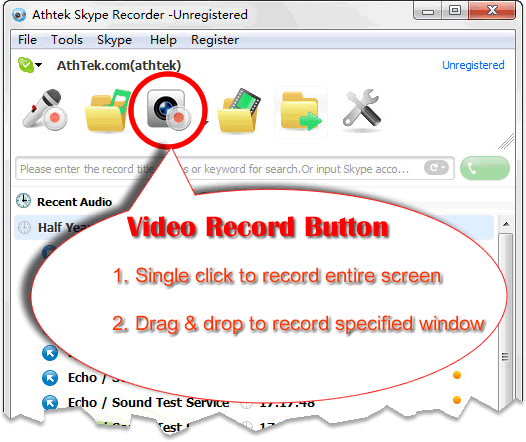 We are looking forward to solve this bug in the next update and it is expected to release at the end of this month. Also many other new features will be included into the new version. Once the new version has been released, all the existing users who have the license key can update AthTek Skype Recorder to the latest version for free. If you are looking for the most popular Skype Recorder, you should download and try it from HERE. Then you will find this one is exact what you need! To know more please visit elizabethnelsonstudio .