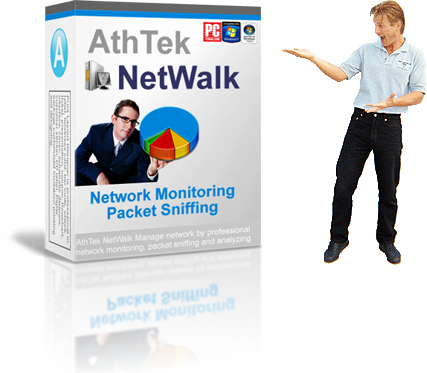 [PDF] Through the filter which can change the scope of capturing packet data, we can capture only the specific packets we need. So users should focus on the data which causes a network failure or comes from network attacks, rather than analyze all the large amounts of data. In terms of capturing packets AthTek NetWalk is one of the most professional tool which provide filer completely thus reducing workload and improving efficiency.
This Tutorial is based on AthTek NetWalk Enterprise Edition.
The next steps are significant.
First run AthTek NetWalk and click "Captures"
Before you starting to capture package,you need to choose the filter which was created in the past. Actually, AthTek NetWalk had preset some filters already.
If you need to create your special filter, what you should be clear is the mean it works. AthTek NetWalk can filter the data mainly by IP addresses, Ports and protocols and if you want to know more details about further settings, please read the following tutorials.
Click "and" button and choose "Address Rules" in the drop-down menu you can specify IP address and the direction of transfer. Here we assume that address 1 is 192.168.1.1, address 2 is arbitrary and both directions for example.
You can also choose Port rules and protocol rules and specify them to meet your demand.
When you have finished your filter, you can go back to the first step and click "Captures"!
Tips: If you are facing with problems much more complex than the situation that I took for example, you need to read my next article for more details about the combination of different simple filters.