Get all the IP and MAC addresses in hand– IP-MAC scanner 50% off now!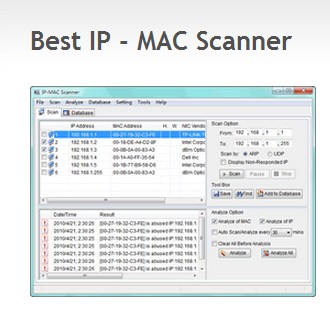 As Administrator, you should get all the IP and MAC addresses in hand. Now AthTek IP – MAC Scanner the best IP and MAC scanner can help you to scan the entire network completely with high efficiency. It is a tool that can show all the connected IP addresses in a list and information about analyzing result.
You can manage and monitor your network by following next several steps:
Firstly, download and Install AthTek IP-MAC scanner which is 15 days free from here. IP-MAC scanner is on 50% discount now!
 
Secondly, launch the software. You can buy it or just chose trial version.
Thirdly, set the IP range by hand, then choose ARP or UDP, click the "Scan" button, you will get the connection lists on LAN.
At last, If you want to get more Information about finding or tracking illegal accesses, AthTek IP-MAC scanner will give your suggestions from trusted clients in Database you have backup by clicking "Analyze" button.
What if you find illegal users?
Do not worry! Right-clicking on the doubtful IP and you can shut it down.